Evolving customer behavior is causing transformational changes in the supply chain industry, and the pace of change is so fast that it disrupts several portions of the economy. These changes impact workplaces around the world, and distribution centers are no exception. Supply chain managers are under immense pressure to increase the efficiency of their distribution networks and convert the simple warehouse into an intelligent, strategic component of the supply chain. There's also a need for supply chain managers to drive efforts towards revenue growth and margin improvement, that paves the way for development of improved logistics solutions.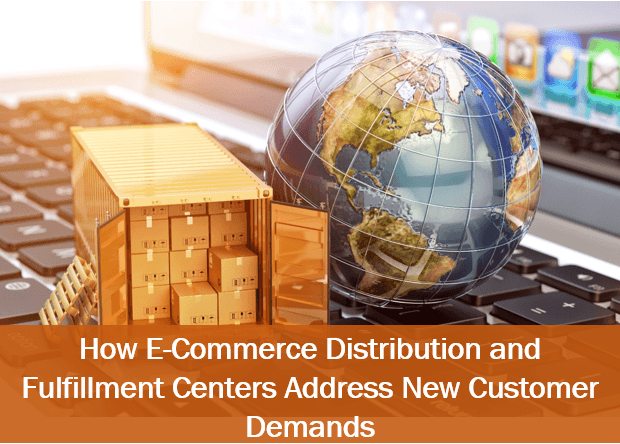 Challenges of the Increasingly Complex E-Commerce Industry
With advancements in the e-commerce landscape, customers are ordering items online every day, and it's causing mayhem in the marketplace. Given the disruption, several retail companies are now under pressure to move to e-commerce, improve their operations, and increase the number of facilities. With this move, keeping efficiency and productivity as well as environmental responsibilities in mind is important. And although the e-commerce industry offers a high degree of convenience to customers, it takes complexity to a whole new level for merchants. Here are some of the challenges faced by e-commerce retailers:
1. Same-Day Delivery Demands
Companies like Amazon – through innovation and cutting-edge technology— have caused an e-commerce explosion like never before. In many ways, their example has set the stage for developments in omni-channel delivery and ever-increasing consumer demands – the two primary factors that continue to shape the evolution of today's e-commerce distribution centers. Gone are the days when a 7-10-day delivery time was acceptable for online orders. Today, if retailers do not offer same day delivery, they stand the risk of losing customers to competitors. In order to emulate the Amazon model, retailers need to enhance their order management and fulfillment system and get products to customers quickly and accurately.
2. Rising Inventory Management Problems
A widespread problem for many online merchants is overselling – having more orders for a certain item than the inventory can fulfill. Online stores are then forced to notify customers of out-of-stock products, which often leads to lost sales and poor consumer sentiment. Frustrated customer reviews can further discourage potential sales from other buyers. In addition, many smaller e-commerce websites face issues with picking and shipping. Picking the wrong product for an order, or shipping the wrong item or a damaged one to the customer, can also result in customer dissatisfaction.
3. Inefficient Warehouse Management Capabilities
Enterprise resource planning (ERP) solutions have become an important means to operate businesses efficiently, but these systems have not been able to offer exceptional demand planning or warehouse management system (WMS) capabilities. This led to companies implementing WMS, that focused exclusively on warehouse accuracy and traceability. And nowadays, with distribution centers becoming an integral part of the entire supply chain, there's much more focus on the planning aspects of goods, people, and order movement. In order to determine the best WMS to meet their supply chain objectives, companies need to decide strategic ERP partner.
Fulfillment Centers of the Future Will Address New Customer Demands
As customer demands, increased freight charges, and urbanization continue to pose challenges, outsourcing warehousing and shipping to modern distribution and fulfillment centers has become a top priority for retail companies. To keep up with the demand, retailers need to move away from the current model of having a single-purpose, fully-owned facility to one that is dynamic and can easily adapt to changing market conditions. As disruptive trends alter supply chains, a flexible and agile distribution and fulfillment network that can be repurposed quickly, and cost-effectively can drive innovation like never before. Here's how:
Focusing on Agility:
Many different types of warehouses are emerging to meet the growing needs of the e-commerce industry. The simple warehouse, which constituted a small portion of the supply chain, has become more strategic and complex than it used to be. Companies are working towards improving their supply chain networks, including distribution center locations, to meet the fluctuating demands of their customers. Having warehouses that are agile and can adapt to changing conditions in the marketplace is critical. Popup distribution centers and on-demand warehouses are a great way to meet the crazy demands of the holiday season.
Using Innovative Technologies:
New innovative technologies such as autonomous vehicles, augmented reality and robot picking, process automation, and others help enterprises address mounting challenges while simultaneously empowering workers, increasing their productivity and making the workplace safer. Such modern distribution and fulfillment centers offer the ability to scale businesses to meet the demands of the future.
Offering Negotiated Rates:
Modern fulfillment centers are often willing to negotiate with shippers that promise a high volume of orders; since they are able to get a better rate, it streamlines the shipping and returns process. What's more, lower fixed shipping costs enable merchants to begin offering free shipping to customers – that can become a differentiating factor in the crowded market.
Leveraging Smart Supply Chain Planning:
Integrating supply chain systems with demand planning, forecasting, order management, warehouse, transportation, and distribution can help optimize the entire distribution process. Integrated supply chain planning and execution solutions can enable merchants to be constraint aware. Based on operational best practices, merchants can identify hurdles and plan for workarounds in advance to ensure on-time delivery.
Hosting Processes in the Cloud:
Moving the WMS to the cloud can also reduce complexity and improve reliability of operations. Merchants can eliminate the need to continuously modify and improve supply chain systems to meet fluctuating demands; they can enjoy greater flexibility, and can scale resources up or down as and when required.
Handling Returns Smoothly:
Fulfillment centers can also strengthen the returns process for merchants. Since many industries have to deal with massive number of returned goods on a daily basis, merchants can send returned merchandise directly to the fulfillment center instead of the factory. This gives merchants more flexibility and ensures there are fewer issues with order processing and delivery. All merchants need to do is to issue refunds when necessary, and not worry about coordinating return shipping.
Enhance Customer Satisfaction
In today's e-commerce economy where same-day shipping has become the norm, leveraging the latest distribution technology is no longer a matter of if, but when. Distribution and fulfillment technology stresses on product delivery in the fastest and most efficient way possible, and new innovative engineering solutions and automated processes can put distribution facilities years ahead of the competition. It's becoming more apparent than ever that hybrid distribution facilities are the future, complete with e-commerce distribution centers, customer pick-up, and service center capabilities. As the future of e-commerce becomes more and more complex, the distribution and fulfillment center will continue to evolve and enable merchants to enhance customer satisfaction with quick shipping, accurate tracking, and easy returns.
Learn more about leveraging e-commerce technology and solutions to address changing customer demands. 
Related Articles: