Delivering Amazing Customer Experiences with Microsoft Dynamics CRM
CRMs transform sales, marketing, and customer service teams into top performers who are highly connected and collaborative so they can engage customers in meaningful ways. CRM for marketing, sales, and customer service helps reduce costs and increase profitability by organizing and automating business processes. Microsoft Dynamics CRM is the easy to adopt, easy to use solution for sales productivity. Microsoft Dynamics CRM is available as a cloud offering, on premises or a hybrid of cloud and on premises installation.
Through Synoptek's Microsoft partnership, we help your sales team organize, automate, and synchronize business processes to find, attract, and win new clients in addition to retaining those you already have.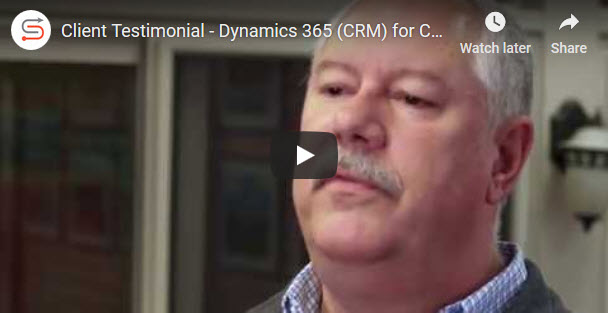 Dave Hofmeister (CIO)
Champion
Champion CIO, Dave Hofmeister talks about how Synoptek, a trusted partner, is helping Champion put all their customer facing activity in Dynamics CRM and have it work hand-in-hand with Dynamics AX.
Boost Sales: Microsoft Dynamics CRM helps streamline the sales cycle and add consistency to sales processes. It allows you to capture potential leads and further qualify them by the likelihood they will lead to a sale. You can automate assignments to the sales professional best suited for a particular client, project, or product interest. Ensure that leads aren't lost and customers receive prompt responses at each touch point.
Strengthen Marketing: Microsoft Dynamics CRM allows you to build, track, manage, and report marketing efforts. You can create targeted marketing campaigns for different customer types. You can also connect to several popular social media sites to listen to what is being said about your business, as well as strengthen branding and build relationships with customers.
Improve Customer Service: Microsoft Dynamics CRM enables a 360-degree customer view, with end-to-end case management capabilities, advanced analytics, and multi-channel service support. With remarkable features like these, your customer service professionals can deal with customers with the best precision and consistency.
Why Choose Synoptek for Microsoft Dynamics CRM Services ?
Synoptek offers a complete suite of Dynamics CRM services to help organizations like yours unleash the power of customer service excellence.
Implementation best practices: We follow quick development methodologies using scrum/agile practices and pride ourselves in customizing the solution until it fits every need of your business. In addition to this, we make use of pre-built industry best practice models at the vertical and micro-vertical level to help you implement the best possible CRM solution.
Adaptability and flexibility: We strive to truly understand your business, people, and requirements. We adapt our work based on your needs and provide cost-effective, flexible Dynamics CRM solutions that your business demands, without compromising speed or quality. We focus on a tried and tested hybrid model, which combines the work of onsite experts with highly qualified offshore development team.
Resource expertise: Synoptek has the perfect blend of experienced Dynamics CRM professionals who have executed multiple projects across various industry sectors. Our team has in depth domain knowledge and proven project management skills that helps us architect, integrate, and manage world-class solutions for our customers.
Capabilities and competencies: We are a Microsoft Gold Partner and have been implementing, customizing, integrating, and upgrading Dynamics CRM for almost a decade now. We help you leverage the full power of your CRM software to give you a total view of your customer, which can help you turn leads into customers faster, generate revenues from existing customers, and support strong customer service initiatives.
Complete suite of support services: We provide dedicated Dynamics CRM support services to help you get the most out of your CRM system. Our support services include system upgrade, custom enhancements, system maintenance, issue resolution, and more.