Travelling to a client site? Facing intermittent network connectivity? Enduring a long flight?
With Dynamics 365 Offline, you can view your Dynamics 365 contacts, review and add new notes, edit records, and do a whole lot more without the need to connect to the internet. In this post, we will outline how Dynamics 365 offline works and list key benefits it can offer your business.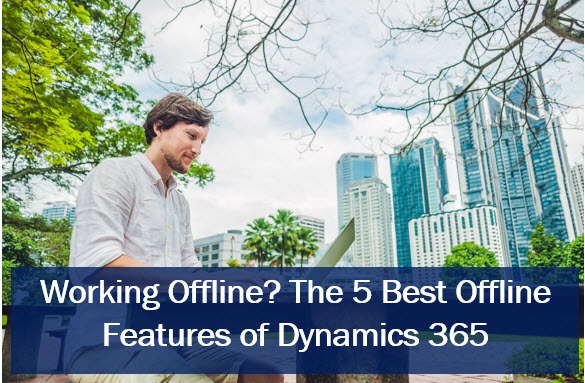 How does Dynamics 365 Offline work?
As soon as you are offline, a part of the Dynamics 365 data is copied to your computer's hard drive. Changes made while offline are stored locally, and as soon as you connect to the server again, the changes are automatically synchronized with the Dynamics 365 server. Users ready to go offline need to go to File > Dynamics 365 > Go Offline.
There are two ways to work with Dynamics 365 in the offline mode:
1. Mobile devices:
Mobile devices have applications which can cache data and create new ones while you are away from Internet connectivity. Once you go offline, you can edit available records and also create new independent records. Once you edit the records and save them, they will be saved as draft records; once you are back online, the drafts sync back with the Dynamics 365 database.
2. Dynamics 365 app for Outlook Client:
There are two clients available with Outlook: a light weight app and a full client app (which will be deprecated soon). Although Dynamics 365 app for Outlook Client works just like the mobile device app, it gives an enhanced view with full Dynamics 365 capabilities – like Dynamics 365 online. Before going offline, you can configure which records you want to sync and have data sync to your local computer using the offline sync filters. When synchronization is complete, you can disconnect your computer from the network.
What are the key features and benefits of Dynamics 365 Offline?
Dynamics 365 Offline allows you to be productive from anywhere, even when you're traveling to client sites or places with low or no internet connectivity. Let's take a closer look at five specific Dynamics 365 Offline capabilities:
1. View and edit records:
While offline, you can get access to recently used records – view and edit current records no matter where you are, and have all the data automatically synchronized the minute you get online.
2. Customize synchronization filters:
With the customization option, you can customize which data you want to access while you're offline; simply modify the offline synchronization filters and get the data you need. You can delete, deactivate, or activate filters based on your requirement.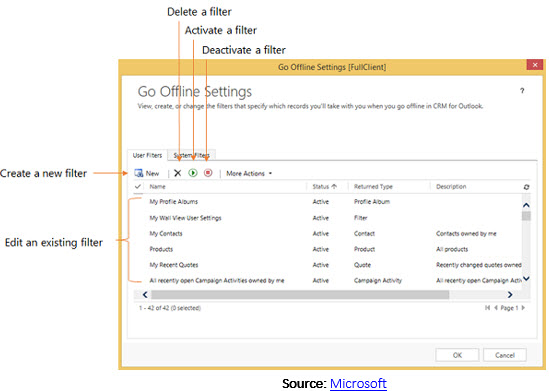 3. Create offline drafts:
Capture new information by creating drafts of records including accounts, contacts, and activities – and save them as soon as you go online.
4. Build mobile offline profiles:
Determine how much data will be made available to a user when offline by creating mobile offline profiles. Go to Settings > Mobile Offline > Mobile Offline Profiles > New (Enter name and description) > Save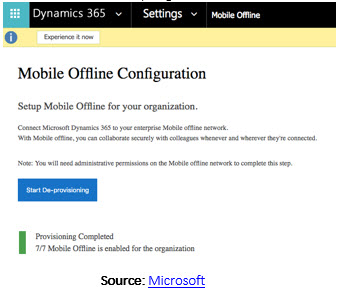 5. View and create new contacts:
Look up your Dynamics 365 contacts, add new contacts, and have them saved onto the Dynamics 365 server as soon as you're back online.
Which features are unavailable when offline?
The offline experience might look slightly different than the online one since some features aren't available offline, including: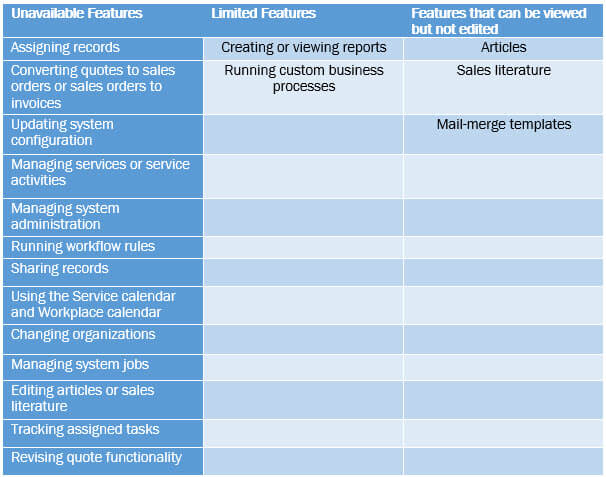 What else do I need to know about going offline?
Anyone who logs onto a computer locally that has Dynamics 365 can access data stored in the offline database.
When multiple users try to add or modify data, Dynamics 365 applies them to the server in the same order they are entered.
Workflow notifications are disabled when offline. However, if the changes made offline are set to trigger an automated workflow process, it is automatically triggered when you go back online.
Email messages that are sent in the offline mode get saved to the Outlook offline queue. Once online, Microsoft Dynamics 365 automatically tries to send them.
Synchronization can take a significant amount of time for users going offline the first time.
Stay productive on the go
Staying connected and productive around-the-clock has become a necessity for businesses, especially for those with most of the team travelling to customer locations and who often face network connectivity issues. Being able to carry out important tasks on the road is crucial – and with Dynamics 365 Offline, you can access any contact you're looking for, create new records, and go on with your daily tasks without interruption. Enjoy the Dynamics 365 Offline capabilities, and never ever waste a single minute being unproductive!
Learn more about Dynamics 365 Offline and how the right technology partner can help your business take full advantage of its capabilities.
Related Articles: