B2B e-commerce is growing at an incredible pace and is set to outpace B2C within the next three years.  With B2B e-commerce in the US expected to hit $1.2 trillion by 2021, it's time for merchants to accelerate their organization towards digital transformation.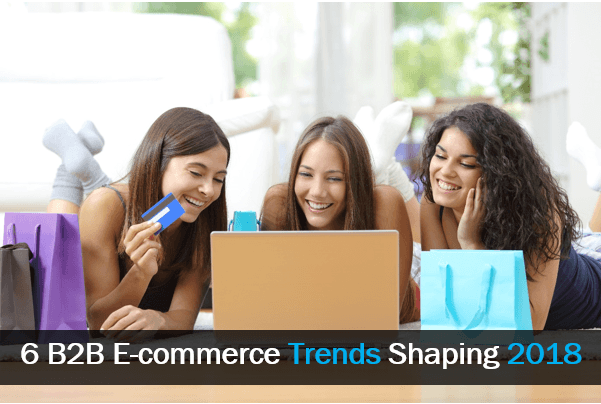 6 Industry-Shaping B2B E-Commerce Trends
If you're looking to make it big and maximize your revenues, it's important to keep up with these B2B e-commerce trends that are currently shaping the industry:
1. Growth of Mobile E-Commerce
As user experience takes center stage, B2B retailers will embrace mobile in every manner possible; progressive web apps and responsive themes that ensure a delightful shopping experience are gaining significant importance. According to research by Boston Consulting Group, mobile e-commerce is going to be a hot trend for the B2B industry in 2018.
The numbers are staggering; mobile e-commerce contributes to an average of over 40% of revenue in leading B2B organizations. What's more, 50% of B2B inquiries today are made on smartphones and that figure is expected to grow to 70% by 2020.
2. New Functionalities and Seamless Integration
With every organization undergoing some kind of digital transformation; B2B merchants will look to innovate with e-commerce solutions by making them more intuitive and easy-to-use. Quick incremental cycles of new functionalities will be released every 4-8 weeks and seamless integration with the company's ERP and CRM will become mainstream: 57% of B2B executives today feel e-commerce integration is a technology need. This will enable customers to view their past purchases and payments, also merchants will be empowered to access real-time inventory levels to avoid back-orders.
3. B2C-Like Customer Experience
Today's B2C customers have become extremely familiar with user-friendly interfaces and a user-centric store design and they now expect the same experience from B2B e-commerce websites.
Since B2B customers demand a highly efficient search mechanism to zero in on the product of their choice (with the least number of clicks), today's B2B sites need to offer a plethora of functionality like easy navigation, detailed but easy- to-read product descriptions, rich content including high-resolution visuals, guidance on merchandising, a fully functional shopping cart, and customer-specific pricing. There will be an upward trend in upgrading e-commerce systems to be able to provide support to their customers on all devices including phone, web, mobile and catalog, just like B2C sellers.
4. Increased Collaboration with Sales Reps
Contrary to the belief that a B2B e-commerce site replaces the sales team, in reality, it empowers sales reps to work more closely and effectively with the system and increase conversion rates using the power of online marketing and sales.
In the B2B decision-making chain, buyers would need to interact more with your company before they make a purchase. It is also likely that there may be many people involved in the purchase decision. By increasing collaboration with sales reps, B2B organizations can help steer conversations, counter objections and focus on the key benefits for each individual customer. Finding the right place for the sales team in the customer journey map will be critical to maximize the impact of the e-commerce system.
5. Global Selling
With B2B e-commerce growing globally, it is crucial for the organization to cater to and deliver an outstanding customer experience to an international clientele. In addition to focusing on the existing customer base, businesses will be reaching out to millions of potential international buyers. This will include offering products in local currencies at prices the local market can support, providing the option to use preferred local payment methods, and ensuring that the entire customer experience complies with local government regulations.
6. Multi-Channel Marketing
With omni-channel B2B buyers generating more incremental revenue, and costing less to serve than single-channel customers, multi-channel marketing will become a widespread trend. Wholesalers and distributors will increasingly engage customers at different touch-points; while some will build robust lead-to-revenue management process, others will offer personalized experiences tailored to procurement and non-procurement buyers across multiple language, payment and fulfilment options.
Multi-channel marketing will not only help increase exposure, it will also enable merchants to reach a larger audience. For sellers looking to grow their B2B e-commerce business with a purpose, multi-channel integration will become main stay.
Achieve Exceptional Performance
As the B2B e-commerce market sets to account for 13.1% of all B2B sales in the U.S. by 2021, what is required is a transformational shift in the way B2B businesses operate. B2B merchants have to ensure their backend operations flow seamlessly and customers get the same level of quality and service as they get in a B2C model. With trends such as growth of mobile e-commerce, global selling, implementation of new functionalities, increased focus on customer experience, software updates, increased collaboration with sales reps, global selling, multi-channel marketing, and B2C-like customer service shaping the e-commerce industry, it is time for you to embrace them for exceptional performance.
Learn more about creating a comprehensive B2B e-commerce site that keeps up with industry trends.
Related Articles
: