The cost of software or application maintenance has reached an all-time high. It has been estimated that application maintenance costs account for more than 90% of the total cost of application development, as compared to 50% a couple of decades ago.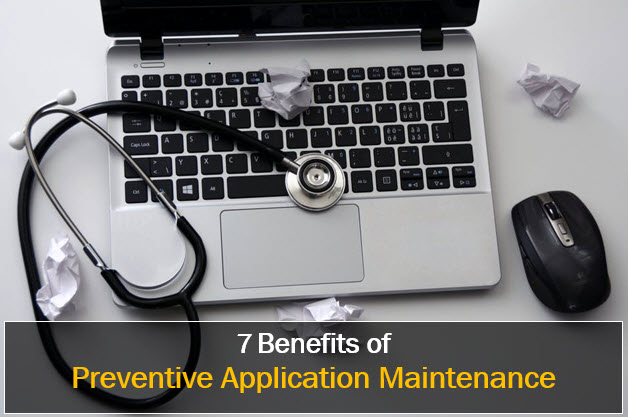 What's causing maintenance costs to sky rocket? Poorly developed software is one of the main reasons for rising maintenance costs. As more and more software is being developed around the world, the more complex it is, the more maintenance it requires.
That's where preventive application maintenance saves the day – by gaining knowledge about existing IT systems, you can fix issues, and aim to reduce downtime. The end result? Improved performance and efficiency of the application in addition to reduced maintenance costs.
7 Benefits of Preventive Application Maintenance
The software testing industry is growing at a rapid pace. And even though the global software testing market is expected to grow to US $55.3 billion by 2021, software stalwarts consider defect-free software as non-existent. While you cannot entirely prevent bugs, you can certainly embrace measures that minimize the consequences of defects. Preventive application maintenance is a sure-shot way of improving the quality of your software application, while simultaneously reducing maintenance costs.
Here are the 7 benefits of preventive application maintenance: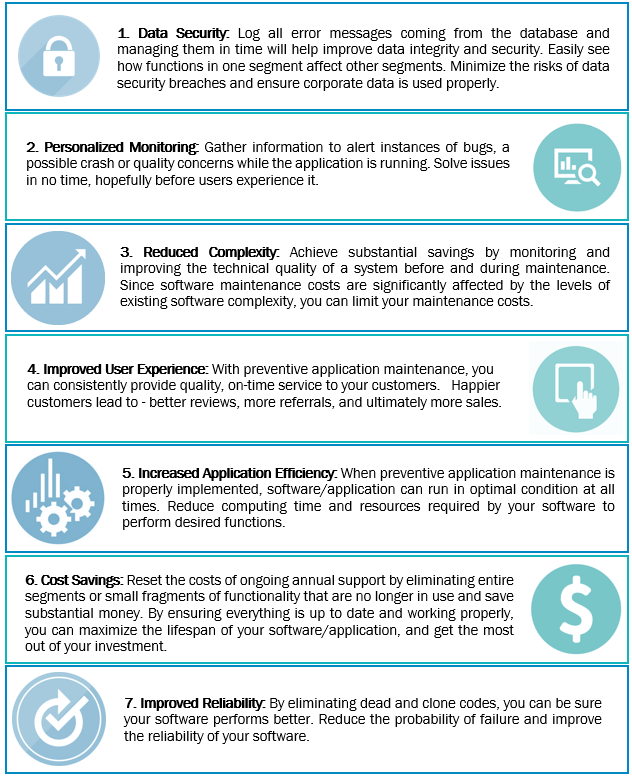 Ensuring High Quality & Save Costs
No matter how hard organizations try to roll out error-free software, bugs are an integral part of every software application. While you cannot avoid it, you can embrace measures that reduce the probability of system failure and reduce the risk of dissatisfied customers.
Preventive application maintenance is one way of achieving this: ensure high data security, leverage the benefits of personalized monitoring, improve the reliability and efficiency of your application, boost user experience, reduce the complexity of continuous monitoring and maintenance, and save substantial costs.
Quality assurance software testing is crucial when preventive application maintenance is involved. Stay up-to-date with the latest services from Synoptek.