With the plethora of offshore software development companies in the market, finding the ideal technology partner can be overwhelming, as selecting the wrong partner may lead to low-quality results, and ultimately, frustration.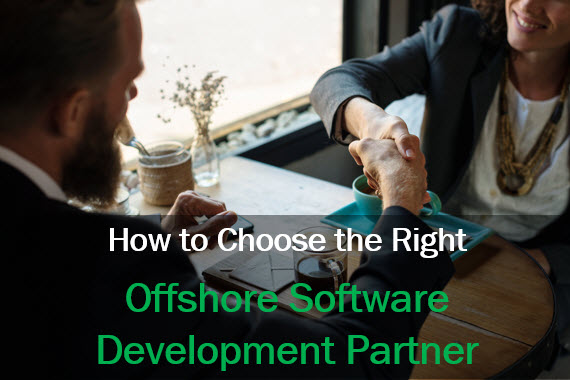 One way to make the right decision is to consider key aspects before committing to a partnership to achieve your objectives. While financial concerns are always an important factor, choosing a software development company just because they offer services at lowest cost is not always advisable.
Six Questions to Consider When Choosing an Offshore Software Partner
To avoid a damaging outcome, it is recommended that you consider these six questions before you select an offshore software development partner:
1. Do They Have Any Experience on Similar Projects?
Many organizations consider time as one of the best ways to determine the experience and expertise of an offshore software development company; however, it isn't always that straightforward. Even businesses who have been around for many years often utilize inexperienced developers to keep costs down. In order to evaluate the true experience of an offshore software development company, you need to identify whether the company has in-depth knowledge in the technologies, standards, and regulations surrounding your particular industry. Only those companies that have prior experience in handling similar projects will truly understand your objectives, and will ensure proper techniques are followed in order to meet all regulatory standards set by the industry.
2. Do They Have the Required Technology Expertise?
Although it is impossible for a single developer to have in-depth knowledge of every possible coding technology, hiring a software development company (instead of a freelancer) that offers a wide range of technologies ensures that there will be a team of developers capable of handling the demands of the programming language of your choice. Ensuring that offshore developers have primary knowledge of the coding language you wish to use on your project is imperative to the success of your project. Look for companies with skilled resources across the software product life cycle, with specialized skills in product conceptualization, design, documentation, and modernization, and competency in handling multiple release cycles.
3. Do They Have Any Quality References?
All offshore software development companies are most likely to boast about the services they offer. So how do you confirm their credibility and trustworthiness? The best way is to choose a software development company that has a renowned name for successfully carrying out multiple, similar projects over a period of time. Find out about their experience through case studies, the different kinds of customers they have provided services for through client testimonials, and the number of projects they have successfully completed. Also, before you assign the complete project to the software development company, get a trial run or POC done to check the quality of services, on-time delivery capabilities, and commitment to the project.
4. What Are Their Project Management Capabilities?
As management guru Peter Drucker says, "Management is doing things right; leadership is doing the right things." While offshoring your software development project, it is extremely important to choose a partner with robust project management capabilities – with the kind of experience and exposure needed to fulfil your objectives. In some cases, providers do not provide a project manager, putting the onus of overseeing the project on the client. Companies who offer project management as part of the agreement ease the transition and possess the skills and experience needed to employ creative solutions. They address every concern with communication and project oversight by ensuring that there will always be a point of contact for their project who understands your company's needs.
5. How Do They Handle Communication Issues?
A major concern for companies looking to hire a third-party for offshoring software development is communication, particularly when dealing with partners based in other countries – not only do you have to deal with language and culture barriers, but also take into account the time difference. Lack of effective communication between you and the offshore development team can lead to misunderstandings on project requirements, deliverables, and can ruin the client relationship. Look for a partner that offers a single point of contact to avoid delays and miscommunication. Also, make sure the offshore team can offer support in your time zone to avoid issues and concerns in real-time.
6. Will They Be Able to Fully Understand Your Business and Meet Future Needs?
Any offshore development partner you choose should be able to fully understand the specific needs of your business. In order to get software development services that deliver profit, it is important that your partner spends every penny effectively without needless expenses and delivers the product on time. Determine how rigid or flexible your prospective vendors are in their approach. Since outsourcing contracts can run for a couple of years, the chosen vendor must be flexible enough to understand your current needs, as well as be prepared to meet the future needs of your business, and act accordingly.
Do Your Homework
Choosing the right offshore software development partner, irrespective of a short-term or long-term project, can be overwhelming, given the number of options available. However, you can ease this process considerably by knowing what to look for in an offshore software development company and fully understanding the drawbacks that can ruin the relationship beyond repair. Make sure the vendor understands your industry, has the required technology expertise to meet your needs, has a proven track record with credible references, follows robust project management processes, offers a seamless and continuous communication medium, and is flexible to meet the future needs of your business. Keep these points in mind to ensure the offshore software development company meets your development needs within budget while developing high-quality software for your business.
Learn more about what the right offshore software development partner can do to streamline your processes.
Related Articles: