There's been a lot of buzz around Dynamics 365 lately, and rightfully so! Unifying the much used and talked about ERP and CRM systems with the cloud is reason enough for all the hype. Over the years, Microsoft's ERP systems have evolved through several (major) changes and enhancements in terms of technology, architecture, functionality, and customization options.

With Microsoft investing $12 billion in R&D, as stated by Nick Fratello, Microsoft Dynamics Architect, the entire journey has been phenomenal, and with each new version, the Business Intelligence capabilities have only gotten better. Gartner predicts the worldwide Business Intelligence and Analytics Market to reach $18.3 billion in 2017. Let's take a look at 4 ways you can use Dynamics 365 to get the Business Intelligence you need.
1. Empower Employees with Intelligent Workspaces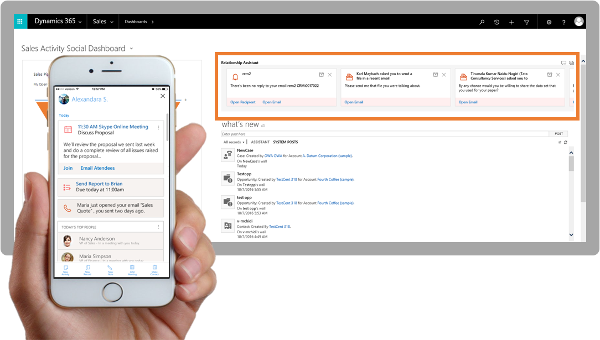 Dynamics 365's workspace concept allows you to perform daily tasks more easily and efficiently. Through personalized action hubs, you can create new activities, see a list of suggested priorities, and also get much needed Relationship Insights.
Have customer interaction data continuously analyzed while getting better insight into your business relationships, evaluate your actions, and choosing the best route.
Click on the analytics feature and drill down to research the data further.
Get a collection of action cards as soon as you launch your Dynamics 365 app (on mobile or web), and efficiently plan your tasks.
Create (more) effective email messages, and understand how your contacts are reacting and responding to them.
Customize these out-of-the-box workspaces, and create your own analytics.
Make the most of these workspaces (and the insights they offer), and nurture and enhance your business relations.
2. Optimize Operations with Power BI Integration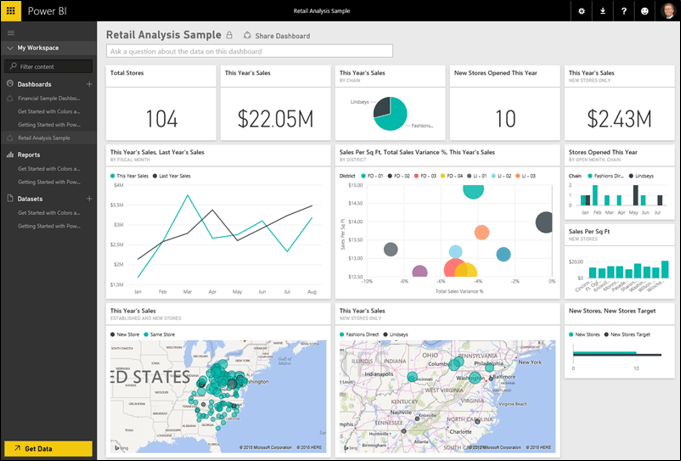 Dynamics 365 offers seamless integration with Power BI, making it a much sought-after analytics option.
The pre-built Power BI content packs aid you in reporting – you can build your own content packs, and make them available for consumption by customers, streamlining and optimizing operations in the process.
Get a 360-degree view of business users with all the important metrics in one place (updated in real time, and available on all your devices).
Use Power BI Online to build complex dashboards from within your Dynamics 365 database and access your data and reports (which are constantly updated) anywhere and anytime.
Explore the data behind your dashboard using intuitive tools to find answers quickly.
Connect to Azure SQL Server database, build your content packs and publish them with required permissions.
Connect to the SQL server database (through Power BI desktop and mobile apps), and build complex analytics and queries. Publish them into the content packs using Power BI online.
Once your content packs are ready, add Power BI analytics tiles onto your workspace and have at it.
3. Engage Customers with Personalized Experiences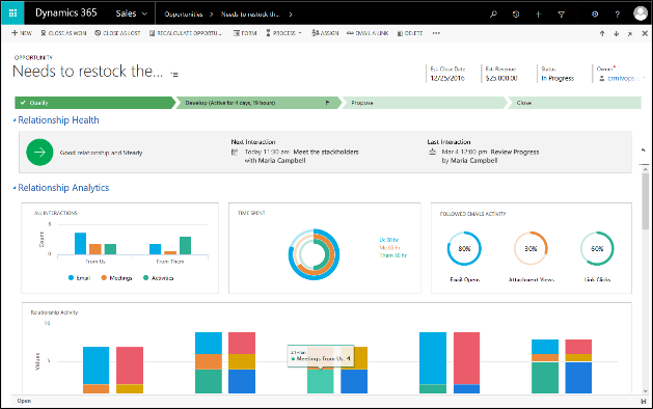 Dynamics 365 comes with deep integration with the Cortana Intelligence Suite, as well as Azure Machine Learning, offering much needed information (and insight) on sales activities, accounts, and opportunities at the most relevant time.
Receive reminders on your mobile device based on the time of the day, the location you're currently in, or the people you're meeting with.
Track your sales orders, get real-time information on invoices, and stay informed with crucial customer data all the time.
Get relevant insight to better understand your customers, and drive engagement through intelligent customer analytics.
Create rich visualizations and get a unified view of your customers' journey in a single dashboard.
Deliver personalized and relevant content with state-of-the-art predictive analytics, customize experiences immediately and improve customer satisfaction.
4. Transform Business (and Products) with Recommendations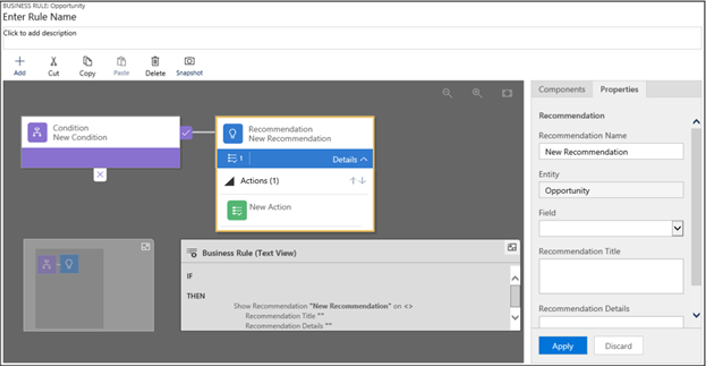 Dynamics 365 introduces a powerful new feature called Business Recommendations, helping you leverage optimal data based on the intelligence you have about your business.
While filling in any form, get intelligent recommendations on how to fill in various fields (based on the condition specified).
Associate Portable Business Logic action with the business recommendation, and systematize setting the value.
Accept the recommendation and have all the mentioned changes applied automatically.
Save time entering data and ensure a consistent customer service approach, and (in the process) transform your business and your products.
Ensure Sustained Growth
Dynamics 365 is built with a plethora of power-packed intelligence tools in the cloud: from Power BI, and Cortana Intelligence Suite to Machine Learning, and Power Apps – enabling the required data discovery, modelling, and reporting to achieve your business goals. The more you know about your business, the quicker you'll grow. Dynamics 365's intelligent features are the perfect choice to get the business intelligence you need to empower your employees, optimize your operations, understand your customers, and transform your business. Get access to rich intelligence (and automation tools) in the cloud, and enjoy a substantial competitive advantage. Turn insights into action and ensure sustained growth, year after year with Dynamics 365.
Business intelligence operations have never been easier thanks to Dynamics 365. Visit Synoptek and discover how your business can reap the benefits.
Related Articles: