The latest technology buzz is around blockchain, which is poised to revolutionize the e-commerce industry with its massive potential. According to Statista, by 2021, the global blockchain technology market is predicted to grow to $2.3 billion. From the elimination of intermediaries to streamlined workflows and reduced complexities, blockchain's potential to overcome e-commerce challenges is irrefutable.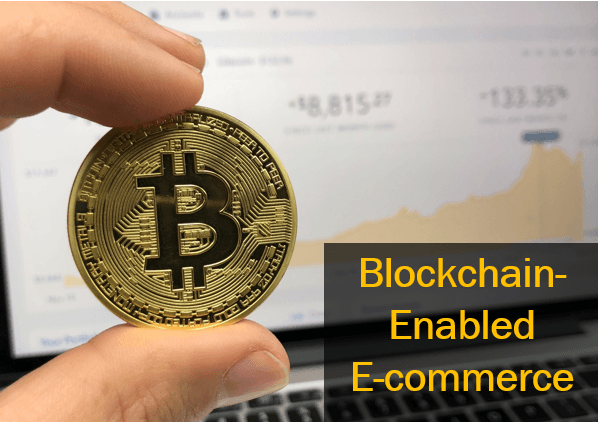 Challenges of the Current E-commerce Industry
The e-commerce landscape has been extremely competitive, with players of all sizes offering similar products and services. In order to stay in the race, businesses have to constantly embrace smarter business models and technologies, but there are several challenges:
Traditional business models have middlemen who charge a hefty percentage of the earnings in the selling process. For instance, sellers have to pay processing fees to facilitate payments for the completion of the transactions.
Safeguarding consumer data is a key concern as retailers need to build customers' trust and assure them that their personal and financial details are completely safe. Sellers usually have to invest heavily in data encryption and other measures to prevent hacking and protect consumer data.
E-commerce selling is a complex process comprising an array of multi-faceted operations such as supply chain, logistics, payments, and more. Managing these operations and the intermediaries involved is another challenge for the industry.
The Solution – Blockchain
With several big data breaches capturing the limelight in recent months (especially Facebook's privacy crisis with Cambridge Analytica), privacy concerns are weighing heavily on the minds of internet users worldwide. As these challenges overwhelm sellers, they have been looking for that one technology that is capable of handling all security-related challenges. Fortunately, they have found the perfect solution in blockchain, being a decentralized system, it brings a host of benefits for the domain.
But, What Exactly is Blockchain?
A blockchain is a database in which bits of information (or blocks) are linked together (in a chain). Since the database is shared and managed by more than one party, irregularities are easily spotted, making it a highly trustworthy system. And although blockchain has long been primarily associated with Bitcoin transactions, its true potential is finally being recognized by several industries. According to Gartner, blockchain's business value-add will grow over $360 billion by 2026. Key features of blockchain include:
Blockchain creates transparency and achieves consensus-based trust without the need for a central authority.
The decentralized ecosystem offers a robust structure that is practically impossible to hack.
It enables consumers to connect with companies or other consumers, eliminating middlemen from the process.
Blockchain extends the ability to turn insights into immutable assets, allowing superior control of data usage.
It can help enterprises minimize cost implications by up to 90% savings.
How Blockchain Will Transform E-commerce
Despite the positive impact that blockchain has had on the global economy, things have not been very bright for the e-commerce domain, as it has been ridden with challenges since its inception. All these years, the industry has been looking for a secure technological backbone, which blockchain will finally fulfill.
Operational Efficiency
Blockchain's decentralized model is capable of streamlining operations and driving efficiency. Since the technology facilitates integration with various management systems, it can help regulate and streamline workflows with intermediaries such as logistics and payment processing partners.
Transparency
Another significant advantage of blockchain in e-commerce is that it brings the required level of transparency in transactions, which fosters trust. Since every transaction is recorded in a shared ledger, it cannot be modified. Such high-security and radical visibility improves transaction processing speed and ensures traceability throughout.
Cost-Effectiveness
E-commerce sellers can rely on blockchain-led bitcoins and a host of other cryptocurrencies to avail cost-effective digital payment solutions. By removing middlemen and intermediaries from the payment process, blockchain eliminates transaction and processing fees, allowing retailers to achieve cost-effectiveness.
Data Security
Since a single data breach can cost an e-commerce retailer millions in revenue and a lot more in brand authority, blockchain offers a level of security that retailers cannot afford to do without. Blockchain is built on the distributed ledger technology (DLT) that offers the highest level of security available for online database platforms.
Blockchain Applications in E-commerce
As the online sales industry continues to both adopt distributed blockchain technology and benefit from it, the ways in which sellers can function and serve their customers — and their bottom line — will multiply. Here are a few applications for blockchain technology in e-commerce:
Inventory Control
One area that can highly benefit from the use of blockchain is inventory control. For instance, by incorporating blockchain into inventory control, retailers can decrease items from inventory as with some standard shopping carts, but can also order replacement stock when pre-defined thresholds are reached. This makes sure that the online store never runs out of product, while at the same time ensuring that excess inventory is not accumulated.
Digital Ownership
The tons of high quality photos, product videos, reviews, and other information that are integral to any e-commerce website are typically created at great cost to the store owner, but the ownership belongs to the e-commerce platform. However, with blockchain, retailers can have complete ownership of all digital assets including digital storefronts, product photos/videos, and reviews. This ownership will be recorded on the blockchain and will be fully transparent.
Loyalty Reward Programs
Blockchain can enable customers to benefit from personalized offers and loyalty reward programs. By securely capturing purchasing history and preferences on the blockchain, personalized offers and loyalty reward programs can be completely automated within the blockchain. Since records of every purchase are stored in the chain, it is easy to have a smart contract to offer a discount, or to issue reward points to customers as they surpass certain spending thresholds.
Identity Management
As more and more people are using online channels to conduct transactions, the digital footprints they leave behind are unimaginable. Every time consumers enter their personal or bank information onto an e-commerce website for payment purposes, information gets stored on several internet databases that are vulnerable to security issues. By protecting individual identities from theft and misuse, blockchain can help retailers build strong authentication mechanisms and encrypted digital identities for improved identity management.
Supply Chain Tracking
Every e-commerce site thrives on the reliability of its supply chain; a reliable supply chain process lets the store operator know what stock is in the pipeline and when new stock will arrive, as well as make sure vendors are supplying the exact products ordered. By using blockchain to track the supply chain, e-commerce companies can ensure that vendors stick to criteria that has been agreed upon and do not substitute products without notice – ensuring that transparency is maintained throughout the process.
Warranty Management
Very often, consumers and retailers experience the frustration of having lost paper receipts and being unable to prove warranty coverage. With blockchain, retailers can easily and efficiently store warranty information; manufacturers, retailers, and customers will all be able to access the data, allowing warranty information to be easily accessed and validated.
Better Operations
Blockchain's potential is massive, and as more and more industries embrace the technology, its impact will only grow exponentially. The advent of blockchain has already started changing the e-commerce industry, and in the next few years, it will completely transform the online shopping landscape. The technology will allow customers to gain direct access to retailers, eliminating middlemen and making the process more streamlined and efficient. Besides, with cybercrime damage costs predicted to hit $6 trillion annually by 2021, blockchain will enhance the transparency and security of e-commerce transactions.
With the e-commerce industry likely to experience 50% annual growth by 2020, it is necessary for established players as well as e-commerce startups to keep themselves tuned to the latest trends and integrate upcoming technologies like blockchain on their platforms for better operations.
Learn more about incorporating blockchain technology into your e-commerce site.
Related Articles: