The rise of AI chatbots in the business world is enormous; according to a report by Business Insider, 80% of businesses want chatbots by 2020. Being part of a wider transition to automate business processes and systems that support customer service in the e-commerce industry, chatbots are enabling retailers to foster better shopping experiences and streamline a vast matrix of complex interactions.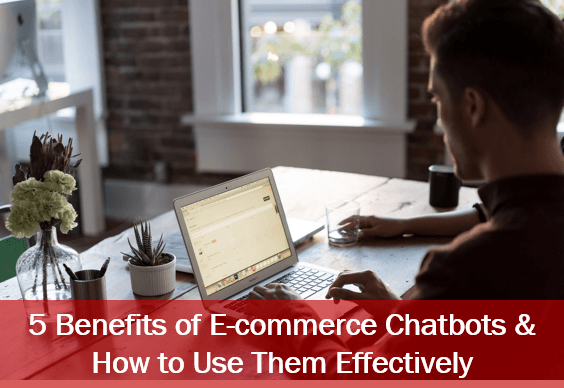 The Benefits of Chatbots
In the e-commerce world, chatbots are bringing out a transformation; they are recreating the experience users have with businesses and replacing it with an experience they have with friends. Since they are built with AI and driven by a predefined set of rules, they learn and adapt themselves to complex business problems and offer quick solutions to user inquiries – just as humans would. The benefits of using chatbots for your e-commerce business are many:
1. 24×7 Support
Most customers expect businesses to be available 24 hours a day, 7 days a week. While having a customer service team around-the-clock is an (expensive) option, with chatbots you can eliminate that cost and still ensure your customers are catered to immediately by chatbots – irrespective of what time of the day it is. Offering 24-hour support is a great way to ensure customer satisfaction.
2. Personalization
Chatbots can also be used to collect data about your visitors and use it to make better product suggestions and recommendations. Understanding customer inquiries, their needs and preferences can allow you to personalize product pages and build customer loyalty and affinity. What's more, chatbots can also notify customers when items are out of stock, and suggest appropriate alternate products based on their preferences while informing them about their expected delivery date and time. Retail giant H&M's chatbot asks customers some questions about their style and offers products accordingly.
3. Reduced Costs
Having chatbots do most (or probably all) of your customer service activities can help you save a substantial amount of money on your customer service team. Efficient customer assistance by chatbots requires less human support, allowing you to drive your focus on more critical aspects of your e-commerce site such as page layout or checkout. You can also dramatically reduce human error and enable efficient customer service with minimal resource costs.
4. Product Guidance
Very often, e-commerce visitors get lost in the maze of millions of products. Chatbots can help such customers find the exact product they are looking for in a huge catalog and directly jump to the checkout page, or obtain information on current sales. By providing answers or advice to specific customer inquiries, chatbots can guide clients and enable them to make purchases on the fly. eBay's ShopBot guides customers through their products, asks questions to understand their needs and offers recommendations like a real sales associate.
5. Cart Recovery
Contrary to popular belief, an abandoned cart can also be a great source of revenue. Chatbots can remind users of items in their abandoned shopping cart and ask them if they are willing to proceed towards checkout or if they would like to clean their cart. On most occasions, such reminders push customers to revisit their cart and enable them to purchase some if not all of the items in their cart.
Chatbot Best Practices
E-commerce customers are always on the lookout for high-value experiences that make their shopping journey exciting and personal. One way to achieve this is by allowing consumers to engage in one-to-one conversations with chatbots and have their questions answered quickly and easily. If you're planning on building your own chatbot and offering a customer experience like never before, here are some tips:
1. Be Transparent:
Although chatbots can hold conversations just as fluently as humans, never let customers assume they are speaking to a human and not a bot. Automated responses can help gather basic information from customers, but since many do not prefer speaking to machines, its best if you admit who you are, rather than trying to be someone you're not.
2. Protect Customer Privacy:
Every customer appreciates his/her privacy; therefore, never let the chatbot get too intrusive. Allow it to communicate only when asked to. Also, since customers might share a lot of personal and private information with the chatbot, safeguard and protect that information and value their privacy under all circumstances.
3. Deeply Integrate AI:
Since chatbots are expected to have answers to all possible customer inquiries, make sure yours is equipped and trained appropriately. Deeply integrating AI into your chatbot can enable it to locate and provide accurate information to customers. If your chatbot is in the middle of performing a task and there is a modification, the customer can be informed for complete transparency.
4. Prioritize Responsiveness:
Since chatbots are built to provide instant customer service, make sure they are extremely responsive and relevant. Do not make customers wait. When customers speak to chatbots, the chatbots should be able to understand customer issues and offer immediate suggestions or solutions. Ensure the chatbots provide easy options and concise information that is sufficient for customers to take an action.
5. Know When to Refer to a Human:
To error is human, and it holds the same for chatbots as well. If a customer comes up with an inquiry or question to which the chatbot has no answer, instead of offering the same response over and over again, referring the customer to a human customer service agent will be the ideal course of action.
Stay Ahead of Competition
The e-commerce industry is a very competitive one; with millions of other merchants selling exactly the same products as you do, staying ahead of the curve is extremely important. With Gartner predicting that by 2020, the average person will have more conversations with bots than with their spouse – it goes without saying how widespread their use is going to be. Although chatbots will never be able to replace humans, they are still an incredible asset to your e-commerce strategy. If you're looking to serve your customers in efficient ways – guide them through your e-commerce website, personalize their experiences, and offer 24×7 support – its time you build your own chatbot and support your buyers efficiently and personally.
Learn more about creating a successful e-commerce strategy.
Related Articles
: