In the digital age, as data takes center stage, achieving manufacturing excellence through Business Intelligence and Analytics is vital to gain visibility into the supply chain and meet the growing demands of the industry. Achieving timely and crucial insights from data requires manufacturers to embrace Business Intelligence technologies for better decision making, better forecasting, improved process efficiency, reduced inventory costs, and improved time-to-market. Microsoft Power BI's suite of business analytics tools allows you to connect to hundreds of data sources, publish personalized reports and dashboards and go from data into insights in minutes. Have questions? Here are your top 10 Power BI questions answered: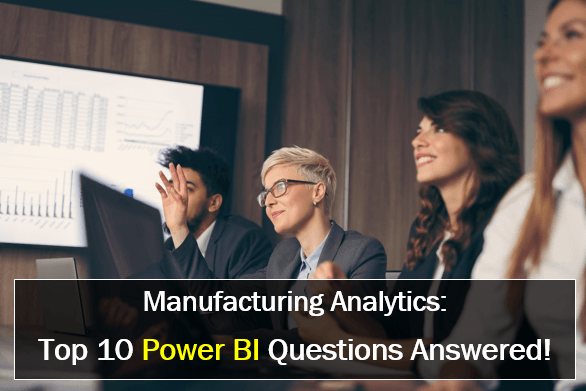 1. What features does Power BI provide? How does it differ from Crystal Reports?
Power BI provides self-service capabilities that makes it an easy-to-use tool for users with less dependency on IT. Microsoft is recognized as a leader in analytics and BI platforms in the Gartner Magic Quadrant for Analytics and Business Intelligence Platforms 2018 edition. The primary push to becoming a leader comes from Power BI for its natural language capabilities, strong sharing and collaboration capabilities. When compared with Crystal Reports, Power BI proves to be better in following areas:
Ad-hoc Reporting
Report Output and Scheduling
Data Discovery and Visualization
Access Control and Security
Mobile Capabilities
APIs /Embedding
2. Is there an on-premises version of Power BI available?
If you're looking for an on-premises solution for reporting today with the flexibility to move to the cloud tomorrow, Power BI Report Server is your answer. It is an on-premises solution you can use today and because it is included with Power BI Premium, you can move to the cloud on your terms. The following are the three other on-premises options for viewing and working with data:
With on-premises data gateway, you can securely connect live to your own on-premises SQL Server Analysis Services server, and other data sources. You can also set scheduled refresh with a centralized gateway. If a gateway is unavailable, the Power BI Gateway – Personal allows you to refresh data from on-premises data sources.
Power BI Report Server allows you to deploy the solution on your own environment for generating, publishing, and managing reports, and then delivering them to different users through web browser, mobile devices, or as an email.
Using Power BI mobile apps, you can view on-premises Power BI reports, Reporting Services mobile reports, and KPIs on the mobile device of your choice.
3. Does Power BI allow scheduling and sharing of data?
Yes. Power BI provides a scheduling feature for import mode data set using which data can be refreshed on required intervals. You get capabilities to share the dashboard with your colleagues, external users and also distribute the dashboard using Apps Works paces and Organization Content Pack.
4. What kind of reports can Power BI provide to the finance department?
Power BI provides a wide array reports and dashboards for finance departments based on the requirement of the CFO, finance executives and business users:
Trial Balance Reports
Revenue and Profitability Management
Financial Planning and Analysis
Monthly Gross Profit Analysis
EBITDA Margin by Location Report
COGS and Expense by Location Report
5. Does Power BI allow scheduling of email notifications?
Yes. Power BI's subscription feature allows users with a Power BI Pro account to set email notifications for reports. However, to set the subscription for other user groups, the forward rule on Inbox needs to be implemented which can help you save Power BI Pro licenses for users who just need to review reports over email.
6. How much does Power BI cost?
With Power BI's various pricing options, you can choose the one that best fits your needs.
Get the free Power BI Desktop Version and connect to hundreds of data sources, build stunning reports with custom visualization and publish to the Power BI service.
With the $9.99 per user per month Power BI Pro, build dashboards with a 360-degree view of the business, distribute to users with apps, and collaborate on shared data whenever necessary.
The Power BI Premium version is based on capacity pricing per node per month. With this version, you get dedicated capacity to publish reports, distribute content and unlock more capacity as you grow.
7. How is Power BI different from SAP BI/BO?
Power BI and SAP BO are both robust tools that offer myriad features and capabilities to meet distinct BI needs of organizations. Here is a brief comparison: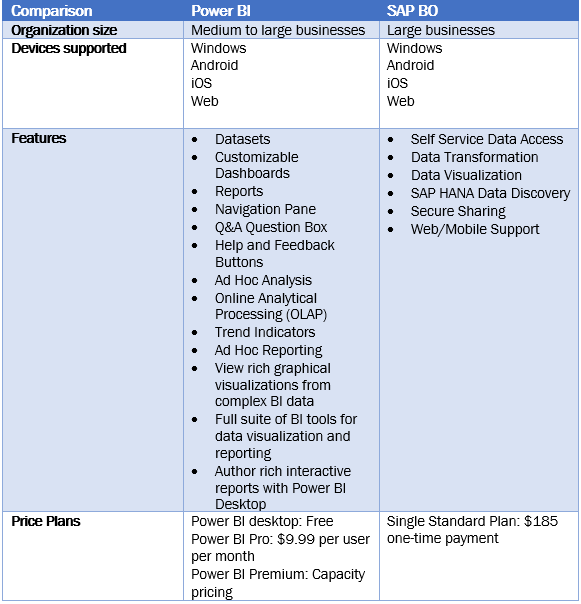 8. What applications does Power BI support?
Since data is the foundation of Power BI, the list of data sources is extensive: from exploring data to creating charts, sharing them and collaborating with team members. There are a host of data sources you can connect to from Power BI including:
Excel and Power BI Desktop files
Content packs for services with ready to use dashboards, reports, and data sets
Azure SQL Database and SQL Server Analysis Services as databases
9. How convenient is Power BI for independent users?
Power BI provides excellent self-service capabilities, including programs like 'Dashboard in a Day' and 'Dashboard in an Hour' using which business users can independently work on their own reports. The Q&A natural-language query feature enables user to ask any question about their data and receive appropriate data visualization based on their question. And the Power BI mobile app available on iOS, Android, and Windows makes accessing it all the more easy and convenient.
10. What's the difference between Power BI Desktop and Power BI Pro?
Power BI Desktop provides a range of features to help you explore data in a whole new way; you can connect to all data sources using various connectivity options and consume data for apps that are published. Power BI Pro users can also do all this, plus enjoy additional features like more storage capacity, frequent scheduling of data refresh, live data sources with full interactivity, groups, and more. Pro users can also publish content to app work spaces, consume apps without Premium capacity, share dashboards and subscribe to dashboards and reports. Here's a brief comparison:

We would love to hear more questions from you on Business Intelligence and Artificial Intelligence, so post them in the comments section below to get specific answers.
Related Articles: