As online shopping flourishes, e-commerce platforms are battling it out in order to take the numero uno spot. While a plethora of platforms thrive in the market today, including nopCommerce and a number of others, Magento Enterprise is one solution that is truly transformational. Every platform has something good to offer, but Magento's capabilities build a unique, limitless, and engaging shopping experience to watch out for – which is why you should consider migrating your nopCommerce e-commerce site to Magento Enterprise. Wondering why or how Magneto scores? Read on to find out.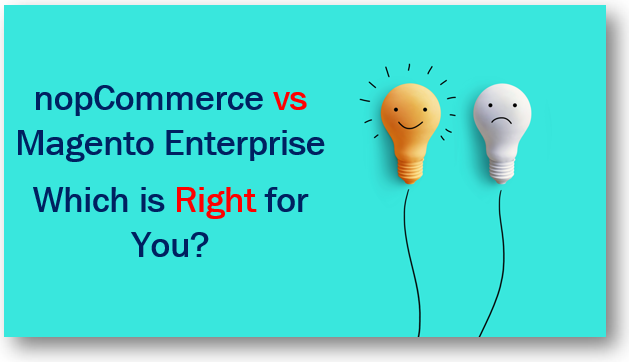 Magento Enterprise vs. nopCommerce: Solution Overview
In the world of e-commerce platforms, Magento needs no introduction. Ever since it entered the e-commerce space in 2008, it has been a popular choice for organizations looking to benefit from having a one-stop online shop. Today Magento Enterprise powers about 120,000 online shopping stores and is acknowledged as one of the best solutions due to its high level of customization. The extremely scalable, powerful platform with an extensive library of extensions is ideal for anyone looking to make it big – start-ups, traditional retailers, and multi-national companies.
nopCommerce, on the other hand, is an open-source e-commerce solution that is easy to set up and customize and offers some good features including mobile commerce, one-page checkout, gift cards and other basic and advanced features. One common challenge with nopCommerce is having to host your own server, and the compulsion to use Microsoft licenses. On the whole, however, it is a robust shopping cart software solution that is impressive considering the fact that it's free.
Features Overview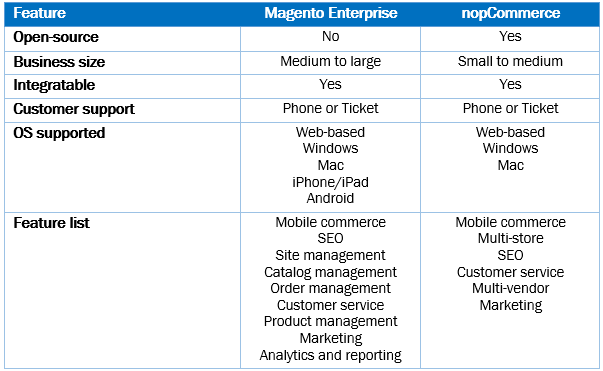 Challenges with nopCommerce
Although nopCommerce offers a range of features and capabilities, there are some challenges which cannot be overlooked:
Customizing nopCommerce (other than themes) invalidates newer nopCommerce upgrades.
The foundation architecture for nopCommerce does not support load balancing.
There is a custom pricing structure for customer logins.
The existing model does not allow developers to develop new security structures to facilitate the required client model, and impacts a large section of the nopCommerce feature set.
The product page is fairly limited; creating custom components, security feature enhancements in particular, requires developers to build the product page from scratch.
SEO is very basic and requires manual editing of the topic theme pages using coded strings.
Community support is limited.
Products are known to have numerous bugs.
Since nopCommerce is suitable only for SMEs, it limits store growth.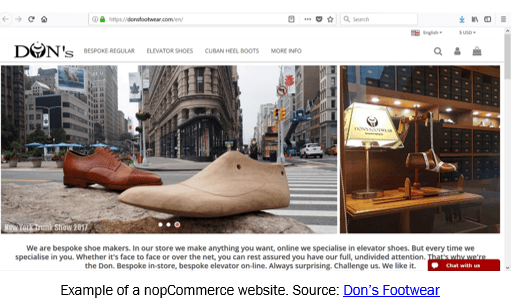 Benefits of Magento Enterprise
Magento Enterprise is a powerful e-commerce platform that is designed keeping developers and designers in mind. Although the solution is not free, the designs are highly customizable with multi-store capabilities, an exhaustive collection of templates and plug-ins, superior inventory management options, quality SEO and marketing tools, product search, mobile device support, and robust shipping and payment options – Magento Enterprise offers everything you need to build an all-exclusive, feature-rich online store.
Why Migrate to Magento Enterprise?
Magento Enterprise provides exceptional customization opportunities along with a set of unique features; it is a true winner in all aspects of design. With some really powerful tools, including SEO friendly URLs, titles, and meta descriptions, Magento Enterprise is certainly way ahead in the e-commerce race. If you're wondering why you should migrate your nopCommerce site to Magento, the reasons are many. Magento Enterprise allows you to:
Export and import your catalog using sophisticated catalog management and save time and unnecessary work
Utilize several new features without having to develop them first since they come by default
Easily control orders – approve, create, hold, cancel, or edit with a simple click of the button
Control and manage multiple stores on one platform and one admin dashboard even if they are completely different from each other
Leverage a host of marketing tools including featured products, bestsellers, discounts, coupons, and newsletters
Easily customize the online store according to business needs, and create product attributes
Leverage a plethora of analytics and report tools and take full control over essential information including search phrases and terms used by customers
Make the most of the online community packed with many free downloadable extensions
Experience Success with Magento Enterprise
If you are looking for an e-commerce platform that offers unlimited business growth, flexibility and scalability, then considering a migration to Magento Enterprise can be a great way to multiply your profits. This seamless way to increase the efficiency of your online store will not only help you get your business to the pinnacle of success but also put an end to the difficulties and issues that you encounter with your current platform in terms of navigation, shopping cart, order tracking and marketing.
Learn more about the capabilities of  Magento Enterprise and how they can enhance your e-commerce business. 
Related Articles
: