Improve Service Efficiency for a Smarter Workplace
Field service personnel deliver critical services and require real-time information and customer data at their disposal from the company's ERP systems, anytime and from anywhere. Powered by a secured system of authentication, mFieldService is consistent, powerful, and accessible with a tablet, smartphone, or laptop.
mFieldService is a complete field service management app that works across all devices, including smartphones and tablets, and is compatible with various platforms including iOS, Android, and Windows. With its capabilities, portability, and easy app installation, this IBM MobileFirst-based solution takes field service to the next level.
Key challenges faced by field service engineers
   Lack of visibility into customer and work order histories
   Inability to use any mobile device or tablet in the field
   Issues tracking the status of activities of service executives in real-time
   Delay in response and decision-making
   Inefficient service calls and hence poor customer feedback
   Untimely or postponed delivery of services
   High customer level expectations due to complex tasks
How It Works
Using this service management app, field technicians can easily access customer information, case history, inventory tracking, logistics, service issues and more, all in real-time. See how our enterprise level service mobile app enhances productivity and effectiveness on the field.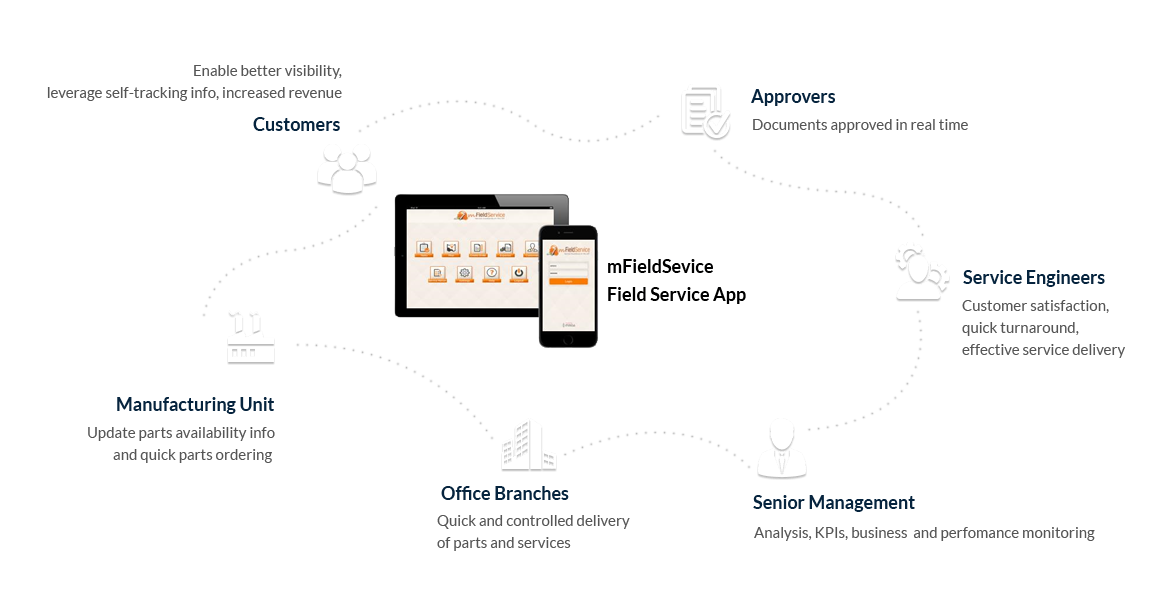 Maximize Your potential with Field Service Management
Our field service mobile app helps create a smarter workforce, encourage real-time collaboration and raise customer satisfaction by:
Enabling a consistent, connected user experience across multiple devices
Reducing time-to-market, cost and complexity with IBM MobileFirst
Ensuring compliance with proper field service processes
Optimizing routing for service calls as well as driving directions
Increasing revenue through order placement functionality
Providing real-time visibility into work status and customer work history
Quickly responding to last minute changes in schedule and decision-making in the field
Meeting service-level agreements and resolving issues early