Self-service BI enables business users to access and explore corporate information – without having a background in statistical analysis, or data mining so they are empowered to make quick and timely business decisions with accurate data. It also frees the organization's BI teams from creating a boatload of reports and allows them to focus on other important tasks. According to Gartner, self-service analytics and BI users will produce more analysis than data scientists will by 2019.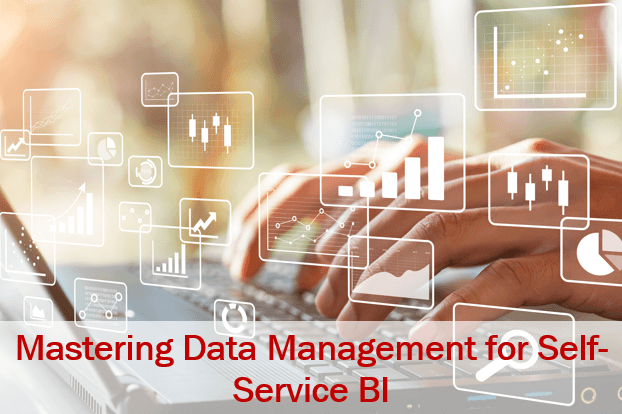 However, the truth is, self-service business intelligence projects often struggle to succeed due to inconsistency stemming from the quality and credibility of data. Although the premise behind self-service BI is to empower the users, without proper data management, adoption falls flat as the number of users encountering inconsistencies grows. How can you accurately visualize data on a dashboard with the risk of using inaccurate or outdated data? In the long run, convincing users to leverage self-service BI to make critical decisions without some form of master data management becomes excruciatingly tough. So, what is master data management? And how does it benefit self-service BI? Let's find out!
Master Data Management: An Introduction
Master data management is the process of defining and maintaining how data will be created, integrated, maintained, and used throughout the enterprise. By efficiently creating and managing quality data, it ensures organizations have a single master copy across customer, product, store, material, reference, and other non-transactional data. The benefits of master data management are many: hierarchy management, data quality, data governance, workflow, data curation, data distribution and more.
With this in mind, the key is to have a database where trusted data can be accessed. Establishing a master data management program allows you to define policies, procedures, and standards necessary to ensure consis­tency in data ownership, access, quality, documentation, and retention across the enterprise, as well as to ensure users adhere to these policies, procedures, and standards.
Master data management makes use of data profiling to evaluate sources for master data entities, including performance of a baseline assessment of potential data quality issues that must be addressed. Considered a pre-requisite to any master data management initiative, data quality can be defined in many different ways:
MDM as a Precursor to Self-Service BI
Although data discovery, visualization, and self-service BI are extremely appealing to business users, they are insignificant without a robust foundation of quality data. Any BI program – whether self-service or not – can quickly fail if users do not trust the information it provides; if you don't trust the underlying data, your company's reporting systems, and ultimately decision-making, are effectively at risk.
Additionally, if your self-service BI application outputs are inconsistent or result in poor-quality data, it can lead to inconsistencies in how metrics are defined across teams; worst-case, you'll have entirely incorrect data being used for decision making. Due to the lack of consistent reporting and poor quality and credibility of data, self-service BI projects often struggle to succeed. The importance of data quality and master data management, therefore, becomes very clear: business users can only make the right data-driven decisions if the data they use is correct.
In the context of BI, master data management plays a crucial role in ensuring accurate and trustworthy reporting in a BI solution. By bringing together master data from various systems and silos across customers, suppliers and/or products, it ensures the self-service BI application has access to quality data. Since self-service BI makes sense only if the underlying data quality can be vouched for, with a master data management practice in place, business users can utilize self-service BI against trusted, governed data sources with minimized risk.
Master Data Management for Self-Service BI
Self-service BI tools excite users with easy ways to get data-driven answers to important business questions and have become the hallmark of successful businesses. Today's self-service BI tools with interactive data visualization give users power and control to interact with data. And those who've experienced the freedom of exploring data on their own constantly seek new sources for data discovery with quality and consistency. Master data management is a great way to make sure data is accounted for. Here are four reasons why you should consider master data management for self-service BI:
1. Integrate Data Across Systems:
Any organization – big or small – is likely to have several disparate systems to manage daily operations across customer management, order processing, inventory, accounting, HR, and more. Chances that these systems have overlapping data that is not often stored in the same format or manner are extremely high. Such inconsistency makes data synchronization a difficult task. For example, while your order processing system may store a particular field in an abbreviated format, the customer management system may store it in full. With proper master data management, data between various systems can be consolidated for accurate self-service reporting.
2. Ensure Credibility:
Poor data quality threatens most organizations that don't implement standardized data management practices, and often results in high costs. Enforcing validation rules and approval workflows onto data that flows into the master data management system will ensure accuracy and quality standards for your master data. For example, when dealing with customer data, users often misspell some fields or leave them blank. Creating rules around mandatory fields will not only ensure data is filled correctly but can also help in accurate report generation. When rules are set, all data that is pulled in will assume the rule naturally, increasing business users' confidence that the data they are consuming is accurate and credible.
3. Empower Users:
When self-service BI is backed by a robust master data management practice, it encourages users to find answers on critical business problems on their own, reducing reliance on IT and allows them to focus on other priorities. Business users can take ownership of the data by managing business rules and business hierarchies – all without the knowledge of the underlying database structure or the statistical analysis involved. Master data management enables users to efficiently manage and maintain data, define and enforce business rules, and optimize workflows through built-in version controls.
4. Drive Efficiency:
Departments in an organization without a master data management practice in place typically manage their own data and are often reluctant to grant access directly to other business units. This can lead to information silos that restrict collaboration, information sharing, and information discovery. A successful master data management strategy helps overcome organizational and departmental boundaries by defining a framework for all the processes and people involved. With roles clearly defined and assigned, collaboration becomes easy and serves as a strong foundation of a scalable framework to meet the evolving self-service BI demands of your organization.
Ensure Better Business Outcomes
Many organizations that implement self-service BI without master data management soon find themselves struggling to drive business value. Inconsistencies in reporting as well as duplicated data and reports result in wasted time and effort in reconciling information and results in mistrust of data in the long run. Unfortunately, once users mistrust information, it is incredibly difficult to regain that trust.
Master data management can enable you to carry out effective data preparation and balance out data quality and self-service BI capabilities for users. If you're looking to ensure better business outcomes from your self-service BI applications, its best to have a master data management practice in place to establish and ensure consistency in data and institute a standard BI architecture as the foundation for your end users.
Learn more about using self-service BI to improve your business outcomes.