Making the most of any enterprise software requires you to constantly update the system and leverage the many new exciting and improved features and capabilities. Thankfully, to keep pace with the dynamics of the market, Microsoft frequently develops updates for all of its products, including Dynamics CRM. It goes without saying that you want to use the most recent version of your Dynamics CRM so that your business reaps all the potential benefits from the platform. Here's how you can successfully implement a Dynamics CRM update for minimal disruption and maximum outcome: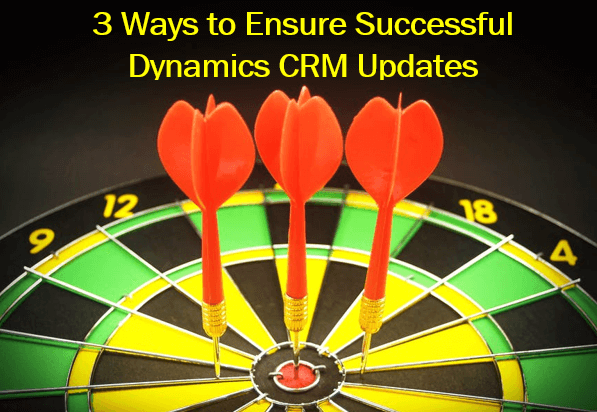 Pay Attention to Microsoft Rollouts
Microsoft regularly announces rollout updates that are planned for applicable subscribers. Updates are offered at various stages of the product lifecycle: from development to rolling-out CRM to a handful of customers to being generally available for customers world-wide. To ensure your Dynamics CRM platform is always operating with the newest technology, use these best practices:
Monitor for Updates: Generally, Microsoft releases two updates a year – one in April and one in October. Each update allows a preview of the releases, which will help you understand and evaluate the upcoming features.
Understand New Features and Capabilities: Review the list of new features or capabilities Microsoft is going to introduce. Check how it will impact your Dynamics CRM system and if any new features will affect any of the existing functionalities.
Review Deprecating Features and Capabilities: In addition to analyzing new features, it is also advisable to review features or capabilities that Microsoft is going to deprecate because they no longer serve an efficient purpose. Evaluate if and how these will affect any of the existing functionalities and take necessary steps in advance.
Evaluate the Timeline for Mandatory Updates: Although you can avoid or ignore an update that is released by Microsoft, there will come a time when Microsoft will stop providing support for older versions. Make sure you avoid such situations and prepare in advance for the updates.
Schedule Upgrade of UAT/DEV Prior to PROD: Before upgrading your PROD environment, it is advisable to upgrade your UAT or DEV environment to get an idea of changes taking place in the system. This will also help you in understanding how the new features will affect existing customizations. Your UAT/DEV upgrade experience will help a great deal in the PROD upgrade.
Regularly Evaluate Your Hardware
Every new version of Dynamics CRM offers a number of exciting changes. In order to take advantage of new features, you need to ensure customizations are compatible with this new version. Therefore, it is always good to check and review your existing system and evaluate the system requirements for the Dynamics CRM update:
Understand the various aspects of the system
See what you will need to do to upgrade your CRM database and accommodate new integrations
Use the custom code validation tool to identify problems flagged areas
Use the legacy feature check tool to detect features that are no longer supported
It's also important to ask yourself these questions:
Are there any changes required in your current Dynamics CRM system for upgrade?
Is it mandatory to update the system?
How much it will cost to update the system?
Technology Partner
Implementing a Dynamics CRM update is sometimes a complex task; so, getting the right advice on what features to opt for, and ensuring the update is implemented with the utmost precision and accuracy is critical. If you're looking to achieve the best outcome from the Dynamics CRM update, it's a good idea to choose a technology partner who:
Is Experienced and Efficient: Technical knowledge and expertise of the new Dynamics CRM solution is paramount to the success of the update. Choose a partner who has experience in upgrades. See if the partner can implement the Dynamics CRM update in the stipulated time.
Understands Your Business: Since every industry is unique, with several distinct processes that define it, having a partner who understands your business processes and adopts best practices to suit your business environment is crucial. Make sure your partner understands your business process and is aware of the impact of the new update to your business.
Outweighs Costs of Failed Update: Although some updates are simple and can be done on your own, some others are complex which need special expertise. If your team is not aware of the criticalities, you can risk getting into unforeseen circumstances. An experienced partner can outweigh the costs of a failed update and help you through a smooth transition.
Trains Your Employees on How to Use the New Features: It is essential your employees are trained well on how to use the new features. As your partner will already be aware of the features and will have all of the information related to the update, they can help you in training employees on the new features and functionalities and ensure widespread adoption.
Provides Timely Support and Guidance: Support for the new CRM does not stop at training. Since partners are constantly working on CRM – learning about the new capabilities and how these capabilities can help organizations – they will be better at providing support for issues and guidance throughout the working lifecycle of your Dynamics CRM.
Make the Most of the Update
In a world where customers have more options than ever when choosing the products, services, and companies they want to do business with, Dynamics CRM enables you to fully understand their needs and offer solutions to meet those needs. As customer needs constantly change, it is vital you keep pace by regularly updating your Dynamics CRM, getting the most out of the technology advancements and achieving the much-needed insight into the latest market trends for improved revenue and profits. By paying attention to Microsoft rollouts, regularly evaluating your hardware to understand system requirements and choosing a technology partner who can effectively and efficiently make the upgrade, you can make the most of the Dynamics CRM update and ensure meaningful and long-lasting relationships with your customers. So, is your system ready for an upgrade?
Learn more about implementing successful Dynamics CRM updates to your system.
Related Articles: