Given the level of competition and the costly repercussions of one wrong move, it's worth questioning "why" and "what" in all of your technology decisions. Replacing on-premises systems with a cloud suite such as Microsoft Azure has recently gained substantially more momentum. IDC estimates that worldwide spending on cloud services is set to grow at 19.4 % annually, to more than $141 billion by 2019.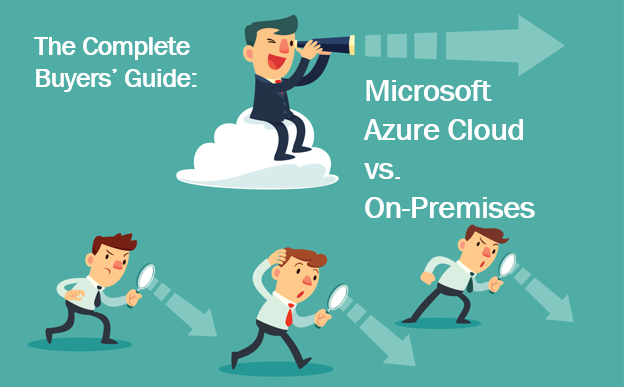 Weighing the Options
Although most are pursuing cloud migration, you should carefully weigh the pros and cons attached with continuing with your on-premises model or pursuing migration. Do the opportunities that the cloud brings to the table outweigh its limitations? What about security? And costs?
Let's look at some critical aspects that'll help you make the decision – to migrate to the cloud or not!
1. Identify Your TCO:
Financially, it makes sense to look at maintenance costs (which are usually recurring) while making the transition from on-premises to the cloud. However, the objective way to look at it is to compare the Total Cost of Ownership (TCO) for both the models. Recurring costs always take precedence over CAPEX, which is a one-time cost. Moreover, since cloud-based models are subscription based, it is difficult to accurately compute the TCO. Therefore, it is always best to compare TCO over an extended period of time to understand true cost implications.
2. Evaluate Your Hourly Downtime Cost:
Cloud models are known for their consistency and minimal downtime. It is a proven fact that compared to on-premises deployments, cloud models have higher reliability, security, and uptime. However, the puzzling issue is quantifying the impact of hourly downtime on your business.
3. Don't Ignore the Hidden Costs for On-premises:
Maintaining and running your on-premises servers 24*7 doesn't come cheap. Also, per industry average, most companies replace their on-premises servers every five years. It also costs approximately $731.94 per year to run an average power consuming server in the U.S. On-premises servers bring massive power bills, plus the headache and costs of replacement every 5 -7 years, which increases TCO.
4. Evaluate your Site Recovery Options:
Site recovery is a critical consideration as it contributes to your business continuity and disaster recovery strategy. While replicating your on-premises physical servers to secondary datacenter is sufficiently effective, replicating them to the cloud truly helps keep your apps and workloads available, 24×7.
5. Assess the Geographic Coverage:
If you're a global organization, with offices across the world, using Azure for managing your data is far more beneficial – you do not have to connect to servers on the other side of the globe, and your systems are up and running round-the-clock – making it easy for your mobile users worldwide. But if you're a relatively small organization with limited geographic coverage and just a few hundred employees, an on-premises solution is just what you need.
Azure Cloud vs. On-premises – See What Works for Your Organization
Here we look at the features and functionality of Microsoft Azure specifically and compare them with an on-premises system.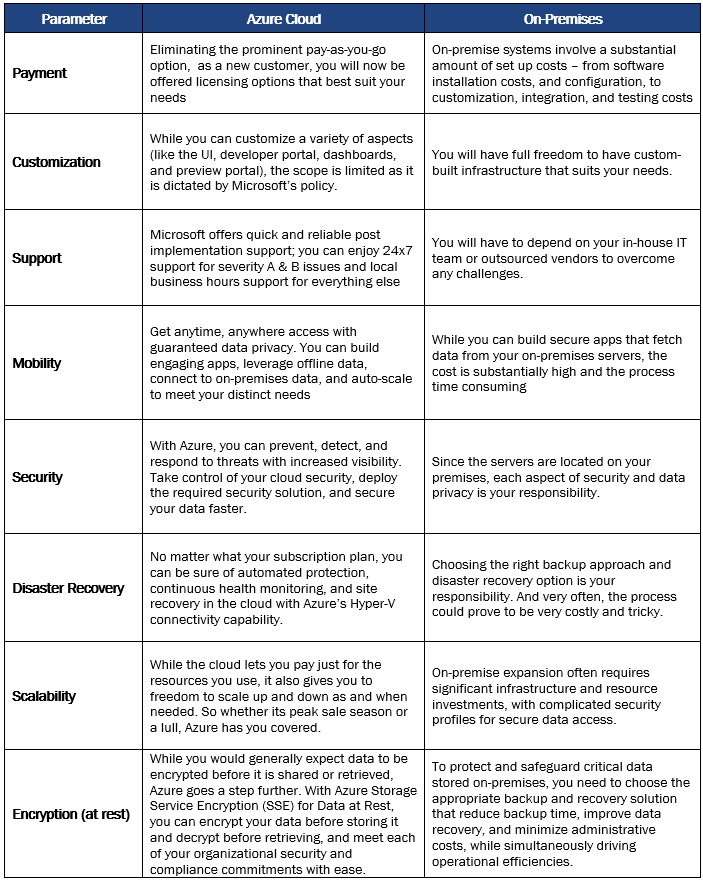 Realize the Cost of Not Moving to the Cloud
There will always be resistance to cloud computing migration, and every business has its own set of constraints and unique needs, but a careful look at the TCO over a longer timeframe will prove cloud to be far less as compared to the on-premises model.
Very often concealed costs such as power bills, physical infrastructure cost, and implementation and training costs are realized only after on-premises implementations. In contrast, cloud providers such as Microsoft Azure comes with no such masked costs and has added benefits of customization, data security, and privacy, in addition to anytime-anywhere access and, most importantly, hassle-free support.
With a growth rate of 120k new customers per month, 1.4 million SQL databases in Azure, 2 trillion messages per week processed by Azure IoT, and 5 million organizations using Azure Active Directory, it's no surprise how Azure is performing, and is a small indicator of why you should carefully migrate to Azure.  Contact us and see how Azure will help you minimize your TCO.