Top Cloud Computing Trends Defining Healthcare in 2019
Cloud Computing needs from the healthcare industry drove $3.73 billion in healthcare spending on cloud services last year and will push that number nearly threefold to $9.48 billion by 2020.
Cloud-based computing is on the rise, projected to triple in the healthcare market, as physicians, hospital administrators, and patients demand secure access to information in a cost-efficient way.
The adoption of cloud-based services continues to accelerate, but the focus now is on how this technology is being used to improve and personalize patient care while lowering costs, not just data storage.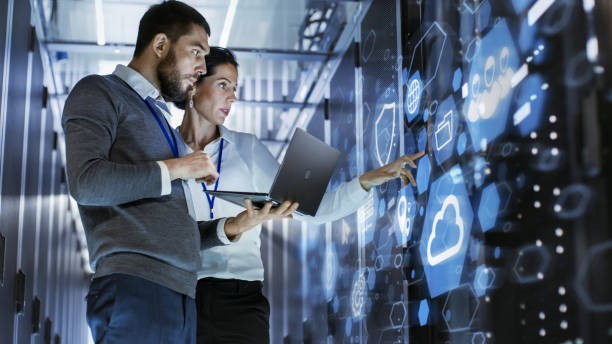 Cloud infrastructure services should expect a growth surge again in 2019. According to a recent HIMSS Analytics Survey, over 83 percent of healthcare organizations are already using cloud services.
Additionally, HIMSS reports that the US Department of Health and Human Services listed 412 data breaches that were under investigation in 2018. The importance of investing in security and mobile device management is more crucial than ever.
Markets
Markets expects healthcare cloud computing to increase to $9.48 billion by 2020. As healthcare providers continue to accelerate cloud services adoption, this is projected to spike in 2019; the emphasis will on configuration, performance, and management.
Cloud Utilization Focus Changing
One reason for the acceleration of cloud services is only cloud-based solutions offer healthcare providers, administrators, and patients the access they require while maintaining security (HIPAA) compliance.  The focus in 2019 will still be on cloud optimization and ROI.
Cloud Configuration & Execution Gets New Emphasis
Healthcare providers will have to have the skills to be able to configure, manage and support HIPAA compliant IT cloud infrastructure.
Constant changes in configuration, options, and service offerings by AWS and Azure, require IT professionals have the expertise and current training in cloud services. Selecting the best cloud configuration settings will increase performance and save thousands of dollars monthly for healthcare providers.
Healthcare Cloud-Based IT Security
The need for cybersecurity measures has never been greater. Healthcare records are a very attractive target to hackers. Bloomberg reported that cyber-attacks against hospitals have more than doubled in the last five years.
Hospitals must treat cybersecurity measures as a significant part of their governance, risk management, and business continuity framework. These measures must also be, according to the AHA, flexible and resilient enough to address threats that are likely to be constantly evolving and multi-pronged.
The Healthcare Cloud Top 20 Checklist

Like any trip from one place to another, you need to start by knowing where you are coming from, what you are bringing with you, and where you are going.
This checklist can be a starting place to review your existing cloud instances, or in preparation of your cloud migration project:
Who are your users and how are they grouped?
What are the applications used by which users and groups?
What resources are required by each application to run optimally?
What data assets must be accessed while using those applications?
What is the value of each of those assets?
How are you protecting and securing each data asset?
How many users will access each application from a dedicated desktop/laptop/mobile device?
How many mobile devices inside and outside of your environment?
How many users access each application from a shared, publicly accessible station?
What kinds of networks are being used to access information? Which networks are VPN's, dedicated, public, wired, wireless, etc.?
Which devices use public wi-fi networks?
What devices are being supported and monitored by your IT department?
What devices are brought into your environment?
What application workloads should be moved to the cloud or kept on local infrastructure?
How will each cloud resource and application be mapped?
Have you matched various cloud services offering with your demands and workloads to increase cost savings and performance?
Where will/should each data asset reside?
What storage capacity will be needed to support each application or workload?
How will each data asset be protected and secured while in storage at the selected cloud facility, and during transit between there and elsewhere?
What devices will each user be accessing which resources? You will need to confirm that each device can be properly secured.
We can help you go through this list and provide you recommendations for cloud migration strategies and a detailed cloud assessment analysis. These recommendations include a pricing analysis, with the proper configuration, for AWS and Azure services. This report could save you thousands of dollars per month on your cloud hosting costs.
Healthcare Provider Cloud Adoption Continues to Accelerate
Cloud Storage Needed to Support Big Data Needs
Physicians targeting breast and ovarian cancer through research that crunches massive amounts of information from more than 2,000 DNA sequences at the Icahn School of Medicine at Mount Sinai. The data set is gigantic — more than 100 terabytes — and the analysis happens aboard a secure cloud-based platform through Amazon Web Services.
"By using AWS, we can store source files securely and cost-effectively with significant durability and accessibility," one of the researchers said. "We wouldn't be able to conduct our research without it."
The case illustrates several reasons the healthcare industry's use of the cloud is growing aggressively.
As Mount Sinai researchers hunt for the genetic causes of these cancers, their research platform helps them meet three key needs: The platform is secure, maintaining the confidentiality of patient information; it is scalable, allowing economic growth as the data set increases and performance needs change; and it is collaborative, enabling researchers to work with external partners.
These needs drove $3.73 billion in healthcare spending on cloud services last year and will push that number nearly threefold to $9.5 billion by 2020. Cloud-based computing is on the rise in healthcare as physicians, hospital administrators, and patients demand cost efficiency, access to information, and security.
The Requisite Cloud Skills in Your Healthcare Organization
Healthcare Providers Impeded Due to a Shortage of Skilled Cloud Professionals
As cloud security concerns for healthcare providers are addressed the key element in cloud adoption is a need for skilled IT professionals. According to Intel's second annual cloud security report, Building Trust in a Cloudy Sky, which features responses from 2,000 IT professionals.
About half (45.6%) of respondents said the scarcity of IT professionals has contributed to a slowdown in the adoption of healthcare cloud services
Sometimes lack of response to demands for cloud services creates a rise in shadow IT deployments
Shadow IT deployments can have a significant impact on overall Cloud Data Security
Healthcare organizations are finding it difficult to locate and hire cloud computing professionals because they are now in such high demand
Certified Cloud professionals can lower IT architecture spending
To accomplish this, CIOs need a team of skilled network managers and cloud engineers with hands-on experience. Organizations with cloud instances need to hire software architect, security specialist, and a data center manager, to design and configure the best solution meeting business needs and mitigate cloud operations risk.
Alternatively, find the right "agnostic cloud provider" partner like Synoptek, to have ongoing access to trained, experienced cloud skill sets and support services staff who are better equipped to find solutions to problems, mitigate challenges, help reduce risks and manage and maintain business-critical cloud ecosystems.
Healthcare IT Cloud Computing Skill Sets Essential
Constant Changes by Cloud Providers are Creating More Challenges for Cloud Management & Performance
A dedicated "Cloud Team" is now a requirement as cloud providers compete for market share and are changing service offerings and configuration options on a regular basis. This is increasingly so, as laws around data protection and security increase.
According to Health Care Global, this complex nature is expected to increase this year with a particular need to pay attention to changes in GDPR and HIPAA.
Experienced Certified Cloud Professionals that have skills in setting up managed customized environments using public, private, and hybrid cloud hosting providers is a huge focus in 2019. Also, 24×7 monitoring is needed to handle the complexity and growth of these various cloud instances.
Synoptek's Managed Cloud Hosting services provides you the Cloud Professionals you need with experience in hybrid cloud, Microsoft Azure and AWS platforms you would expect from an award-winning trusted 20-year veteran.
Healthcare Cloud Migration & Optimization
Cloud Services ROI Becomes More Important
This year "optimizing" cloud performance and ROI is a key priority for healthcare IT managers. This includes "right-sizing" your cloud; getting the proper configuration, confirming your cloud workload types, storage options, peak RAM usage, storage capacity and current utilization require very precise analytics. Synoptek's Cloud Assessment Service is a detailed report that provides Healthcare providers all this data and more, including third party (Azure, AWS) vendor analysis and pricing:
With one report understand the best cloud provider based on cost and performance for your environment
Avoid guestimation of needed cloud resources, reducing costs significantly
Understand cloud"peak and valley" utilization precisely
Avoid performance degradation and unnecessary costs
Save time and resources by trying to assess all your cloud instances internally
Reduce migration planning cycles by visibly seeing dependencies and shadow IT
Gain insight to application dependencies as all commands and web server requests are identified
Learn more about how Synoptek works with healthcare organizations like yours to improve business processes and drive success.