Converging industries, complex customer expectations, and a highly competitive environment are driving many brick-and-mortar stores to the verge of extinction. Although the industry is expected to reach $5.5 trillion by 2020, the popularity and convenience of e-commerce means retailers now need to up their game and cater to the demands of modern customers. Now, customers are taking control of their experiences – shopping when its most convenient to them, using the channel of their choice.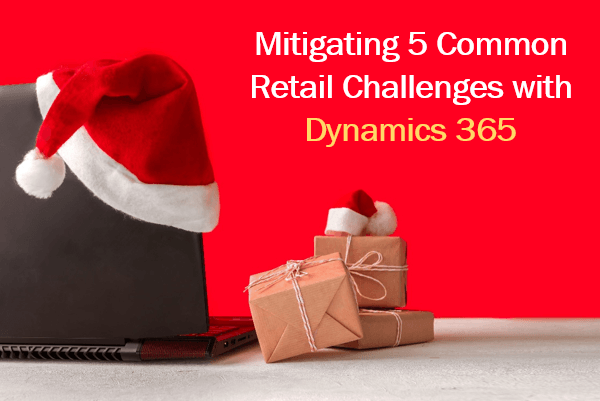 With this in mind, understanding the various attributes of customer behavior and optimizing price, assortment, and promotions becomes extremely critical. Dynamics 365 for Retail has a number of capabilities specifically designed to solve common retail challenges. Through its modern interfaces, automation and BI capabilities and built-in analytics, it helps retailers overcome everyday challenges, paving the way for streamlined, and organized retail operations.
5 Key Challenges in the Retail Industry
With changing customer needs, the rise of e-commerce, increased competition, and the looming threat of disengaged employees, the retail industry is currently in flux, leaving many to ask:
How do you engage, retain, and grow talent?
How do you cater to the ever-changing demands of your customers?
How do you stop people from thinking brick and mortar shopping is dead?
How do you keep up with competition?
How do you drive innovation?
There are numerous challenges faced by the retail industry; below are 5 of them:
1. Ensuring Consistency in Merchandising
The constant and fluctuating demand for new products, lack of shelf space and flexibility, and conflicting interests of top management all impact merchandising in a big way. To succeed in today's hyper-competitive market, retailers not only need to sell products, but also offer exceptional in-store experiences. While effective merchandizing is a huge component of the in-store experience, the dynamic characteristics of the retail market and the volatility of consumer behavior makes it increasingly difficult for merchandisers to maintain required clarity and consistency.
2. Mastering Pricing Strategy
With consumers now able to check competitive pricing in real time, it's important that retailers have a strategy that tracks and adapts prices to broader market forces. According to Statista, 93 percent of consumers use discounts, coupons, or promotions throughout the year, which makes pricing extremely dynamic. Retailers are under pressure to evaluate a range of different data points to build and execute their pricing strategy, especially when dramatic changes in demand or aggressive promotions from competitors hit the market. If retailers do not effectively orchestrate prices across channels, it can lead to inconsistency and a negative brand experience.
3. Providing Personalized, Omni-channel Experiences
The way that people shop has changed dramatically. Now, customers research products on their smartphones, visit a retail store to try on a product, view promotions on dynamic in-store signage, and then decide whether or not to purchase the product. Providing personalized omni-channel experiences across in-store, online, mobile, IoT, and social apps is a modern necessity that daunts retailers worldwide. According to the National Retail Federation, although retailers recognize personalization as a top concern, many struggle with closing the personalization gap. Now, retailers need to efficiently decipher customer and business data in real time to deliver a personalized experience that engages shoppers and inspires them to buy across channels.
4. Tracking and Predicting Customer Behavior
Now that customers have more shopping options than ever, retailers need to constantly look at demand, seasonal trends, as well cart abandonment to determine how best to position markdowns and promotions to increase sales and maximize margin. Although numerous changes can be made to influence consumer behavior, how can retailers know if the online merchandising actions they're taking are moving the needle and helping them achieve business goals? Retailers have to constantly make changes – from adjustments in pricing, to product presentation and sequencing – to drive conversions and align customer needs with business goals.
5. Responding Quickly to Changes
One of the biggest challenges for retailers to stay competitive and relevant is their ability to remain agile and keep up with rapidly changing markets, customer preferences, and technology. If retailers don't act fast, they can lose the game to competitors who embrace new technology to offer innovative customer experiences and modes of engagement.Retailers are under immense pressure to set the foundation for long-term competitive advantages through agile customer experience platforms, real-time integration based on microservices, and an AI layer that can support the entire business with insights and enable actions across the entire customer journey. As we enter an era of AI-enabled chatbots, virtual personal assistants and IoT devices, retailers have to devise new models for customer engagement, shopper interaction, and transactions to stay in the lead.
How Microsoft Dynamics 365 for Retail Helps Overcome Challenges
Dynamics 365 for Retail unifies digital, in-store, and back office operations to personalize customer engagement and increase employee productivity. By empowering retailers to create exceptional, insightful shopping experiences, retailers can more effectively manage their merchandizing, optimize operations, provide unified shopping experiences, and drive continuous innovation throughout the customer buying journey.Let's look at 5 common retail challenges Dynamics 365 for Retail helps the industry overcome:
1. Merchandising Strategy
As new channels, products, and markets emerge, Dynamics 365 for Retail helps streamline merchandising and enables you to effectively manage the process. You can acquire inventory from the right vendor at the right price and allocate and replenish stores based on seasonal fluctuations and competitive pressures. The product catalogs provide rich visualizations, images, and text descriptions that help enrich product offerings. Additionally, category management helps you centrally manage your entire assortment and create, schedule and track product information, categories, assortment, and pricing from a single location. The flexible promotions feature allows you to optimize your mix using coupons, buy-one-get-one scenarios and more. You can also target product and promotion by category, channel, season, and loyalty, while improving revenue.
2. Pricing Strategy
Dynamics 365 for Retail offers various options for pricing; using price groups, you can set unique prices and discounts for various products and assortments – either directly on the base price, in a trade agreement, or in a price adjustment. You can define and configure your stores, with their own payment and delivery method, price groups, income and expense accounts, registers and staff. You can also define prices and discounts that apply to different channels (according to local market conditions), catalogs, affiliations (offering differential pricing for target customers), loyalty programs, and niche products that are available in the store. Furthermore, the pricing priority feature allows you to apply higher prices to a specific set of stores – because of the local market conditions.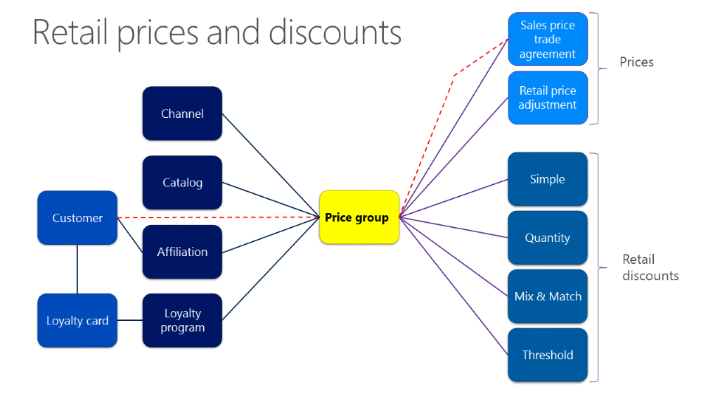 Source: Microsoft
3. Omni-Channel Experiences
Dynamics 365 for Retail allows you to create seamless shopping experiences across physical stores, web, mobile, and call centers. Such an experience can help in increasing revenue, customer satisfaction, and brand loyalty across all customer touchpoints. Superior store systems help in consolidating customer purchase information including sales history and wish lists and helps you in offering better recommendations and customer experiences across channels. Using the customer orders feature, you can offer customers the convenience and flexibility to buy in-store, pick up products from certain locations, or get them delivered to their homes. With the charge send feature, store associates can create an order for a customer who can choose the store from where the order will be shipped from. You can also optimize store operations by getting visibility into business operations through BI dashboards.
4. Customer Behavior and Loyalty
As customer needs constantly change, Dynamics 365 for Retail allows you to quickly and effectively keep up with changes in buying habits and trends. As a result, you can target and attract new customers while keeping your existing customer base happy. By using tools to access real-time product, customer, inventory, and order visibility, you can also meet (and even exceed) customer expectations. Advanced analytics backed by machine learning also enable predictive, optimized, and personalized insights into customer needs and help lead to growth and profitability. Additionally, you can configure and manage various loyalty programs such as discounts, promotional coupons, points accrual and redemption, gift cards etc. seamlessly, and further boost loyalty.
5. Speed and Agility
With Dynamics 365 for Retail, you can accelerate time to market and adapt quickly to changing customer needs, market dynamics and seasonal fluctuations. By automating processes across Dynamics 365 applications and third-party systems, you can increase inventory visibility, fuel better engagement experiences, reduce cost and operational complexity and make the most of state-of-the-art datacenters to safeguard data.Social integration allows you consistently stay connected with the digital customer, facilitating more meaningful and impactful interactions. Such integration not only enables you to be nimbler, but also improves brand awareness. With deep insights provided by artificial intelligence, you can guide your teams to the right business outcomes, transform your customer interactions and always stay ahead of the curve.
Keep Pace with Market Demands
To put an end to high staff and customer turnover, the retail industry needs to embrace modern technologies that provide new ways to engage with audiences and understand the changing consumer dynamics that are determining the way they shop. Dynamics 365 for Retail is a one-stop-shop to overcome these retail challenges.Using Dynamics 365, you can reduce fulfillment costs, improve inventory utilization, and efficiently manage your business using customer and operational insights. You can automate and streamline workflows and efficiently manage stock counts to enable the right level of inventory at the right locations. The end result? Consistent merchandising, competitive pricing, streamlined omni-channel experiences, and improved customer loyalty that can allow you to keep pace with market demands through speed and agility.Learn more about addressing common retail challenges with Dynamics 365 for Retail.
Related Articles: