As the rapid adoption of internet-connected devices continues and with newly announced chip vulnerabilities making headlines, 2018 seems like primetime for unique and broad-reaching cybersecurity attacks. In response, smart company decision-makers are looking to beef up their security skill sets. However, as with many IT positions, those looking to add qualified employees to their firms are struggling to fill these cybersecurity positions.
What does the hiring landscape look like?
According to Cisco, approximately one million open cybersecurity jobs currently exist worldwide, highlighting the cybersecurity professional shortage's global reach. According to an ESG/ISSA report, security employees say they face excessive workloads and shortages of the necessary resources to protect their organizations. The report states, "This is especially alarming since the first report revealed that cyber security professionals are not getting the proper level of training they need for mitigating risk, understanding the threat landscape, or responding to incidents as they occur." With devastating attacks becoming more likely, many are unsure of how to overcome these cybersecurity shortcomings.
"Vigilance will go a long way, but heightened security awareness is the best — and, perhaps, the only — protection against emerging threats that we can only begin to imagine today," according to an IBM Security Intelligence article. As we settle into 2018, organizations face cybersecurity skills gap concerns that leave them vulnerable and in danger of non-compliance with industry and government regulations.
HEATMAP OF CYBERSECURITY JOB OPENINGS BY STATE (CYBESEEK.ORG DECEMBER 2017):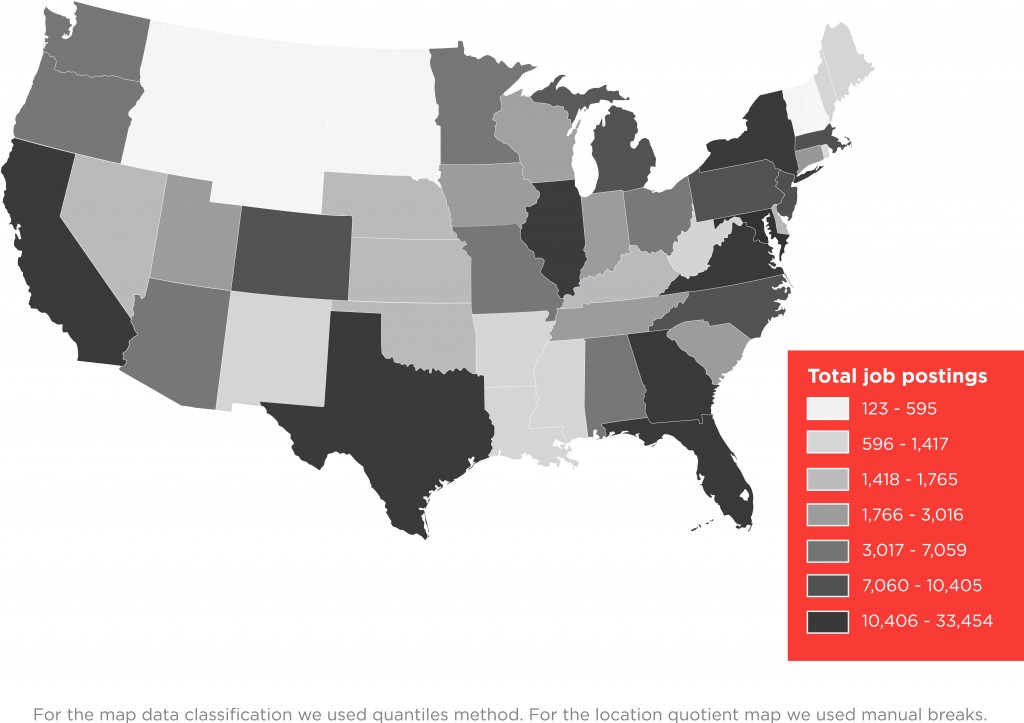 CYBERSECURITY SUPPLY & DEMAND FINDINGS (Source: CYBERSEEK)
Total Cybersecurity Job Openings – 285,681
Supply / Demand Ratio of Cybersecurity Workers – 2:6 (the national avg for all jobs in the US is 5:6)
Highest Certification Demands (Source: Global Knowledge Study)

Certified Information Security Manager (CISM) – $128,156 annual salary
Certified Information Systems Security Professional (CISSP) – $121,729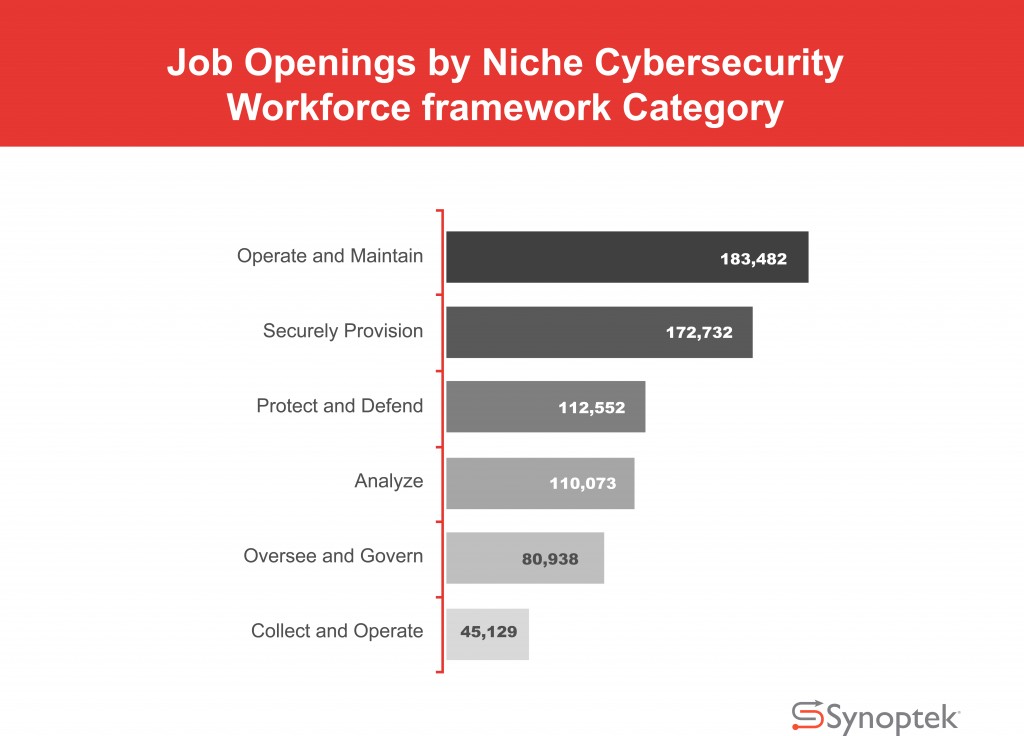 Which cybersecurity skills do you need?
The following high-demand cybersecurity skills are essential for firms to obtain in order to prevent breaches that could expose them to data and financial loss:
Data loss prevention and data security best practices
Configuration and management of firewalls and antivirus safeguards
Cloud security skills
Network monitoring and access management
Vendor risk management and vetting
To face security threats this year and beyond, Dark Reading adds the following necessary skills to the list: security analysis and investigation, risk analysis and negotiation, IoT security, data management and analytics. Lacking these qualifications is rightfully a major concern for companies of all sizes.
Solutions for the cybersecurity skills gap
In an evolving landscape of threats and with the cybersecurity skills gap increasing, what can organizations do to protect themselves? Many firms are turning to outside help from managed service providers (MSPs) for a cost-effective and complete managed security service. According to a CompTIA report, 93% of IT and business executives who outsource some part of their IT operations to an MSP reported meeting or exceeding their cost-saving expectations. As the cybersecurity skills gap continues to leave companies open to attacks and at-risk for noncompliance, partnering with a managed IT services provider can help increase security, improve business strategies, and mitigate risks this year — and into the future.
Firms that invest in cybersecurity have better chances to prevent cyberattacks from occurring or reduce damage when they do. If you're looking for a cybersecurity partner to help reduce risks in your organization, speak with the security professionals at Synoptek.
About Synoptek
Synoptek offers a variety of educational resources to help you make informed IT and business decisions. Check out our recent blogs, videos, news, webinars and seminars. Want to speak to an expert? Contact us here. 
About the Author
Synoptek is an established firm that provides information systems consulting and IT management services. Synoptek and its predecessors have been providing these services for 23 years.