Extract Value From Data That Help You Make and Predict Data Driven Decisions
The right data, at the right time, can help make intelligent and informed decisions to create competitive and visionary organizations. Microsoft Business Intelligence (BI) and Artificial Intelligence (AI) offers everyone in your organization a powerful new way to work and excavate the hidden value in data assets to facilitate informed decisions. With advanced analytics, you can save time and money by optimizing resources and decision making, with accurate, continuously improving forecasting models. Experience AI to drive digital transformation with powerful tools and services that empower your business.
Synoptek offers a complete range of BI, predictive analytics, AI as well as prescriptive and preventive maintenance services combined with expertise in data management and data integration to provide information that is tailored for your needs. We capitalize on robust BI technologies such as Microsoft BI Stack (SSIS, SSRS, SSAS), visualization and self-service BI through Microsoft Power BI for Office 365, Azure Data Factory, Azure SQL Data Warehouse, and Azure Analysis Service, coupled with predictive analytics techniques through sales forecasting models, IoT and machine learning services.
Accelerate digital transformation by taking advantage of the power of data analytics, AI, Internet of Things, machine learning, and cloud computing.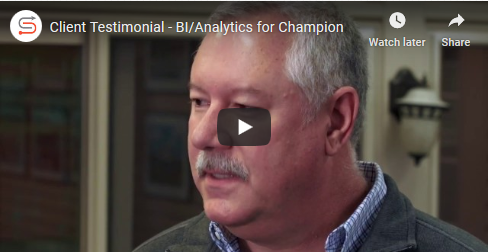 Synoptek Client Testimonial – Champion
Dave Hofmeister (CIO)
Champion
Champion CIO, Dave Hofmeister talks about how Synoptek, a trusted partner, is helping Champion put together their BI strategy for complete visibility into operations including sales, marketing, financial, and manufacturing performance.
Make Quicker, Informed Decisions: Predictive analytics lets you instantly and easily dig into your data and gather insights into various external dynamics and market factors, as well as your internal operations, so that you can prepare and streamline your organization for increased efficiency ultimately aligning for more profitable outcomes.
Better Visualization of Your Data: Having data is great but being able to determine the story that the data tells is what matters most. Build enterprise-scale analytic solutions and deliver comprehensive dashboards, scorecards, and reports. With data visualization, you can understand the significance of all of your business data by transforming it into simple and easy-to-understand visual context.
360-degree View of Organization: Business intelligence helps you manage business data effectively and efficiently by providing an integrated, centrally managed, and trusted data source. This allows you to drill down to the nitty-gritty in just a click, saving effort and time.
Why Choose Synoptek for Business Intelligence Services ?
Implementation best practices: Synoptek's comprehensive Business Intelligence (BI) and Artificial Intelligence (AI) services help organizations stay on top of information, enabling better decisions, improved competitive advantage and enhanced ROI. We blend deep industry knowledge, advanced statistical methods, technologies and platforms like Azure, Power BI, SQL data warehouse, IoT, and Machine Learning to build exceptional BI solutions.
Adaptability and flexibility: With our agile development approach, adaptability and flexibility are easily managed to deliver optimum business results. Our BI and AI services ensure that you have timely access to high quality data—data that is meaningful, complete, and accurate.
Resource expertise: From developing standard BI tools to building advanced analytics and AI-based solutions, Synoptek's BI experts have delivered success stories across multiple domains. The team collaborates with your SMEs to segment and analyze data from multiple data sources (be it structured or unstructured) and provide intelligent insights related to your products, sales, customers, and more.
Capabilities and competencies: We are a Microsoft Partner with a Gold competency in Data Analytics and expertise in Microsoft Power BI and data warehousing technologies. With our proficiency in areas such as data warehouse, dimensional data modeling, online analytics processing, sales forecasting, IoT, and more, we help you design and develop data management solutions to match the information demands of your business.
Complete suite of support services: At Synoptek, we understand the power of data analytics. From defining BI and AI strategy and road maps to providing data analytics, we develop end-to-end BI and AI based solutions that allow you to build an enterprise-wide analytics culture.
Solutions for Business Intelligence: Whizzy BI
Even with an ERP in place, are you able to leverage its rich data points into visuals, reporting, and useful analytics? With Whizzy BI, a business intelligence solution, you can 30+ pre-defined reports, custom build your own, and put all that data into action.
Data Extraction – Data is consolidated from heterogeneous data sources
Data Processor – Data extracted from sources is transformed, cleansed and undergoes quality check
Data Warehouse – Data is staged into warehouse with all historical data used for reports and analytics
Analytical Layer – Cubes give a 360 view of data while dimension and measures create KPIs
Data Visualization – Dashboards, reports, KPIs are available using Power BI, SSRS and other visualization tools