What is a PMO Maturity Cube? The three dimensions that comprise the cube are scope of influence (enterprise, departmental, or program-project), approach of delivering (strategic, tactical, or operational), and the maturity level (basic, intermediate, or advanced).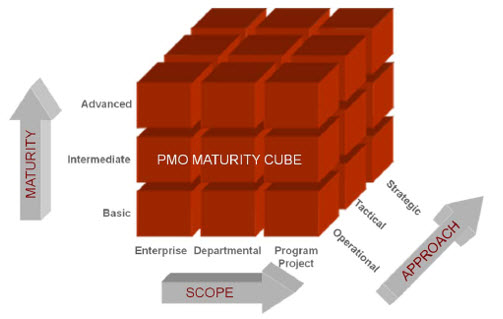 Helping Customers Climb the Scales of PMO Maturity
An assessment of how mature the PMO practice of an organization is generally conducted prior to the beginning of the services provided. In general, it is conducted across the approach of delivering strategic model assessment vs tactical assessment vs operations assessment.
A PMO model questionnaire is prepared for business and project leaders are utilized to assess the maturity level. Once the current scores are established based on the responses collected, it allows the business the understand where their perception of PMO maturity stands.
While there are no strict rules regarding how these assessments are scored, it is critical that the business has a unified agreement on how they perceive their practice to be. Next, they should be setting target levels to a case during a phase or at the end of their transformation process. It lets them create targeted growth in order to create more balanced business ops with lowered risk and redundancies.
Note: A complimenting agile implementation methodology has the potential to allow the business to continuously assess how their transformation is adopting PMO model practices and the way their perceived influence is changing over the course of the project.
This lets businesses make tactical and personnel changes to adapt to their growth in order to achieve the targeted maturity model. Once the phase/project is complete, a re-assessment is conducted and based on the responses, a matrix is set up to display current (beginning) and target levels.
Want to learn more about the strategic IT options available to you? Contact one of our IT experts for a free consultation.